iMac Shipping Estimates Slip to 3-5 Business Days for Most Models
iMac shipping estimates have slipped to 3-5 business days on the Apple Online Store in the United States for all models aside from the entry-level 21.5-inch option with a 1.4GHz dual-core Intel Core i5 processor. The high-end 15-inch Retina MacBook Pro is also now showing an estimated shipping date of 1-2 weeks. Both the iMac and 15" Retina MacBook Pro were previously listed as in stock.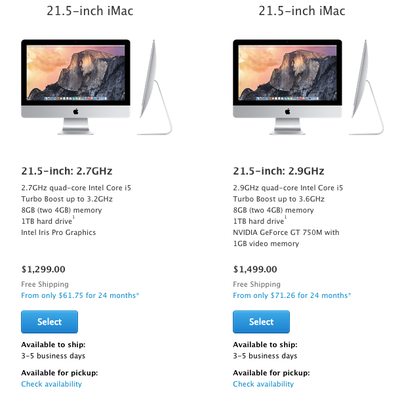 The majority of the iMac lineup, excluding the low-end 21.5-inch iMac released in June 2014 and iMac with Retina 5K Display launched in October 2014, was last updated in September 2013 with the latest Intel Haswell processors, faster PCI Express-based flash storage options and 802.11ac Wi-Fi. Based on its average product cycle, the all-in-one desktop computer is long overdue for a refresh.
Nevertheless, the iMac is not expected to be updated until Intel releases desktop class Broadwell chips during the second quarter of 2015. Intel's first 14nm desktop processors, including the Core i5-5675C, i7-5775C, i5-5575R, i5-5675R and i7-5775R CPUs with Iris Pro 6200 integrated graphics, are expected to be announced during Computex Taiwan in early June, with some chips expected to launch in mid-May, and should become readily available as early as July or August.

Intel's Broadwell desktop chips based on 14nm manufacturing process (via CPU World)
Ultimately, the extended iMac shipping estimates of 3-5 business days could be nothing more than regular stock fluctuations on the Apple Online Store, although it is worth noting as the release of Broadwell desktop chips approaches. At this point, it remains more likely that refreshed iMacs will be announced at
WWDC 2015
at the earliest, but Apple's plans could change based on Intel's release timeline.