Apple Urging Music Labels to Stop Licensing Free Songs on Spotify and YouTube
Apple has been leveraging its power within the music industry in an attempt to push music labels to stop licensing freemium tiers offered by Spotify and other streaming music services, according to The Verge. The company has also reportedly offered to pay YouTube's music licensing fee to Universal Music Group if the label stops allowing its songs on the website, a popular destination for music videos.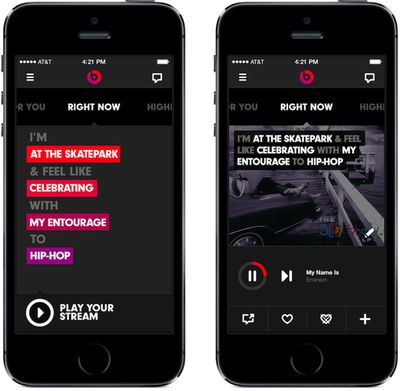 The report claims that U.S. Department of Justice officials are looking into Apple's business practices in relation to its upcoming streaming music service, expected to be a rebranded version of Beats Music that will debut at WWDC next month. "DOJ officials have already interviewed high-ranking music industry executives about Apple's business habits," the report claims.
Apple's much-rumored Beats streaming service would naturally be a more competitive alternative over two of its biggest rivals in Spotify and YouTube if it successfully convinces music labels to force streaming services to ditch their freemium tiers. Apple's service is expected to have lots of exclusive content, and only about one-quarter of Spotify's 60 million customers have paid subscriptions.
Apple faces a similar probe from the European Commission over concerns that it's persuading labels to abandon free, ad-supported services such as Spotify in Europe as well. Apple's own Beats streaming service will reportedly not offer a free tier, requiring customers to pay a recurring fee of around $9.99 per month, similar to paid tiers offered by Spotify, Rdio and Google Play Music.
Apple's Beats-based streaming music service will reportedly be deeply integrated into iTunes on Mac and the stock Music app for iPhone, iPad and iPod touch, and apps will also be available for Apple TV and Android. Last month, the company seeded
iOS 8.4 beta
to developers with a redesigned Music app featuring a new MiniPlayer, a redesigned look for "Now Playing," global search capabilities, a streamlined design and more.