Over the past few weeks since Apple's "Spring Forward" event, model and founder of non-profit organization Every Mother Counts Christy Turlington Burns has kept a blog on Apple's official website describing her use of the Apple Watch in helping her prepare for the Virgin Money 2015 London Marathon.
After finishing the marathon yesterday, Burns
posted a time
of 3 hours and 46 minutes, flying just under her goal time of 3 hours and 55 minutes (via
The Telegraph
).
Angled as a seven week build-up to the 2015 London Marathon, Burns' final blog entry was posted last week, also timing itself with the official launch of the Apple Watch last Friday. As Burns mentioned in her latest post for Apple, "as a 46‑year‑old mom, I'm proud of my under‑4‑hour goal", even though most "extreme" athletes can get a finish time under the 3 hour mark.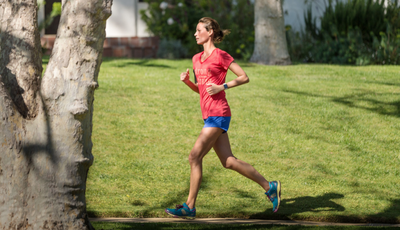 Burns used a variety of Apple Watch features over the nearly-two-months she trained for the marathon, from praising the dexterity of the Watch in learning personal stride and workout preferences to the subtle encouragement of filling every activity ring each day.
Although her role in the launch of the Apple Watch can be seen as purely promotional, she did shed some light on unknown features concerning lesser-discussed portions of the Watch's abilities, including the fact that after a few runs paired with an iPhone, the Watch can work independently of the iPhone over time.