Apple to Debut New A8-Based Apple TV Box With App Store and Siri at WWDC
Apple plans to announce its next-generation Apple TV set-top box at its annual Worldwide Developers Conference in June, according to BuzzFeed News. The report, citing sources familiar with the plans, claims that the new Apple TV will be a "significant overhaul" of the streaming TV box, featuring both Siri and an App Store with an SDK available for developers to create apps.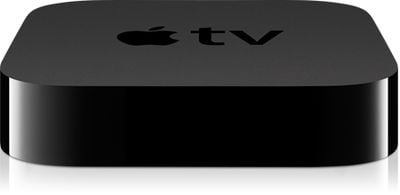 The new Apple TV will feature Apple's latest A8 system-on-a-chip and a "dramatic increase" in internal storage, well beyond the 8GB included in the current third-generation set-top box. The addition of Siri will enable Apple TV owners to control a wide selection of HomeKit-enabled home automation devices through the set-top box, according to the report.
The new Apple TV will be part of Apple's ambitious plans to improve the TV experience, an area that iTunes chief Eddy Cue thinks "sucks" currently and Apple chief executive Tim Cook referred to as "stuck back in the 70s" in an interview with Charlie Rose last year. The new device will be Apple's attempt at capturing the digital living room through TV, music, apps and home automation amid a sea of competitors including Amazon, Google and Roku.
A refreshed Apple TV would make sense given reports that Apple is also planning to announce its oft-rumored streaming TV service at WWDC, anchored by popular networks such as ABC, CBS, Fox, ESPN and FX. The web-based TV service for iPhone, iPad, Apple TV and other devices is expected to deliver a lightweight package of about 25 channels for between $30 to $40 per month. Apple TV is also long overdue for a hardware refresh, with the set-top box last updated in 2012.