Tag Heuer Partnering With Google and Intel to Build Connected Smartwatch
Swiss luxury watch maker TAG Heuer on Thursday at the Baselworld watch convention in Switzerland announced that it is partnering with Google and Intel to create a connected smartwatch. TAG Heuer will be responsible for designing and manufacturing the watch, which will have an Intel microprocessor and use Google's Android Wear platform. The smartwatch will be released later this year, at which point specific pricing and features will be revealed.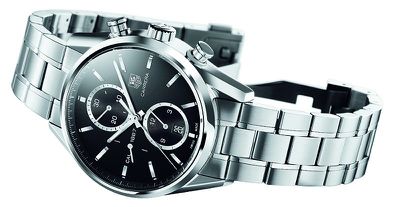 TAG Heuer's Carrera contemporary luxury sport watch
TAG Heuer has
high expectations
for its upcoming smartwatch, with CEO Jean-Claude Biver calling it his "biggest announcement ever" in 40 years of working in the industry. The executive also predicted that the product will be the "greatest connected watch" available, just weeks before the Apple Watch is released. "The difference between the TAG Heuer watch and the Apple Watch is very important," Biver said. "That one is called Apple and this one is called TAG Heuer."
TAG Heuer joins Swatch, Breitling, Montblanc and Frederique Constant as one of several Swiss watch makers bringing electronic features to the wrist to compete with the Apple Watch and other connected smartwatches. TAG is the first traditional watchmaker to partner with Google, however, opening the doors for more Swiss luxury watch makers under parent company LVMH, including Hublot and Zenith, to collaborate with Silicon Valley on the next generation of wrist-worn devices.