High-End Retail Shops Around the World Preparing to Showcase Apple Watch
During yesterday's Apple Watch event, Apple CEO Tim Cook suggested the high-end Apple Watch Edition will be available in limited quantities at a select number of stores. He was likely referring to some of the pop up shops we've seen under construction, in upscale department stores Galeries Lafayette in Paris and Selfridges in London.
Women's Wear Daily has shared some more information on the locations where we will see the $10,000+ Apple Watch Edition and other versions of the Apple Watch shown off around the world. Described as "shop-in-shops" in high-visibility locations, each of Apple's pop up stores will ensure customers looking to make major purchases will get the best service possible.
At Selfridges, the Apple Watch will be displayed in the aptly named Wonder Room, which houses high-end jewelry and watches in a brightly lit room decked out with treasure-filled glass cases. At Galeries Lafayette, the Apple Watch will be displayed among European brands on the first floor of the facility, and at the Isetan Department Store in Shinjuku, Tokyo, the Apple Watch will be displayed on the ground floor.
Other speciality fashion stores will also sell select Apple Watch models, including Colette in Paris, where the Apple Watch had its fashion world debut, Dover Street Market in London and Tokyo, Maxfield in Los Angeles, The Corner in Berlin, and Lane Crawford in Hong Kong, Shanghai, Beijing, and Chengdu. All of these are fashion-oriented upscale stores.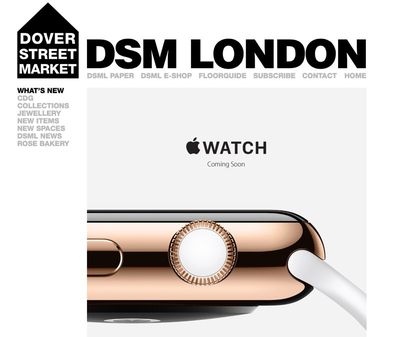 Unlike with the iPhone and the iPad, Apple will likely be keeping a tight rein over which of its resellers are able to offer the Apple Watch. As it is positioned as a fashion accessory, it makes more sense for customers to be able to walk into a high-end store to make an Apple Watch purchase rather than a Best Buy or an AT&T store.
For the Apple Watch Edition especially, Apple wants to create a special, one-on-one buying experience that's not exactly possible with today's crowded retail Apple Stores. There have been hints that Apple is planning to redesign many of its retail locations to facilitate Apple Watch sales, and some of those changes may be implemented ahead of the Apple Watch's April 10 debut date.
Apple vice president of special projects Paul Deneve commented on Apple's plan to sell the Apple Watch in speciality stores, saying that shopping for a watch is a "deeply personal" experience.
"The experience of shopping for an Apple Watch is a deeply personal one. The department stores and specialty stores that we're working with are some of the best in the world at offering such experiences, so it was natural for us to see our product there," said Paul Deneve, Apple's vice president of special projects who joined the tech company after years helming fashion houses including Yves Saint Laurent, Lanvin and Nina Ricci. "Given the very focused distribution that we've pursued for this launch, every door that sells Apple Watch will provide a unique experience for every customer that walks in."
Apple will begin accepting pre-orders for the Apple Watch on Friday, April 10. At that time, the company will also be displaying the Apple Watch in its retail stores for customers to try on, and it's likely many of the pop up shops may open their doors at that time. The Apple Watch's official launch date is April 24.