Apple Watch Makes First Public Appearance at Parisian Fashion Boutique Colette
As indicated by an announcement yesterday, Apple has teamed up with Parisian fashion boutique Colette to show off the Apple Watch at the retailer's gallery on Rue Saint-Honoré in Paris for today only. The special event marks the first public appearance for the Apple Watch since being announced last month at a media event, as a long line began forming around Colette's before the event started at 11 AM local time.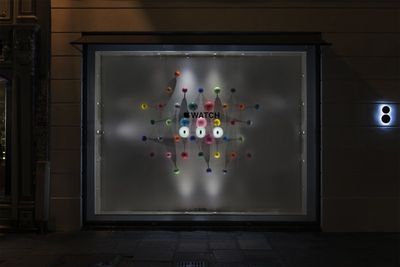 According to Engadget, Colette is displaying both the 38mm and 42mm versions of the Apple Watch to the public, and MacGeneration (Google Translate) states that the models being displayed are mostly from the Apple Watch Sport Collection while some are from the Apple Watch Collection. Also on display are some watches from the Apple Watch Edition Collection, which feature 18-karat gold casings and a sapphire display.


Customers are only being allowed to look at the devices and will not have the opportunity to actually try out the smartwatch's capabilities. However, some journalists were allowed to try on the devices. Apple will also not be announcing any new details about the device at today's event, as info about full pricing and battery life remain unknown.

Left to right: Colette's Sarah Andelman with Karl Lagerfeld, Anna Wintour, Jony Ive, and Marc Newson (via

Vogue's Suzy Menkes

)


A number of members from Apple's industrial design team are also present at the event, including Apple's Senior Vice President of Design Jony Ive and newly hired Apple designer Marc Newson. Both Ive and Newson were also pictured with a number of high-profile fashion personalities, including notable designer Karl Lagerfeld and Vogue magazine editor-in-chief Anna Wintour. Other fashion journalists present also include Jean-Seb Stehli of Madame Figaro and Elle magazine editor-in-chief Robbie Myers.
In addition to positioning the Apple Watch as a consumer electronics product, Apple has also been pushing the wearable device as a fashionable accessory. The company invited top fashion editors and bloggers to its September 9 media event, and even allowed some to go hands-on with the smartwatch. Fashion publications including InStyle and Vogue were impressed with the Apple Watch, praising its design and the Digital Crown input method. However, others like The Doneger Group's Roseanne Morrison were unimpressed with the device, calling it "not pretty" and "future techno as opposed to feminine sexy."
At its event earlier this month, Apple said it is targeting an early 2015 launch for its wearable device. A report after the event stated that Apple would be "lucky" to launch the watch by Valentine's Day due to software development issues. The Apple Watch will start at $349 and may run up to $1,200 for the high-end Edition version.