Apple Releases iOS 8.1.3 With Bug Fixes, Storage Size Reduction
Apple today released iOS 8.1.3 to the public, with a range of bug fixes including a fix for an issue that prevented some users from entering their Apple ID passwords for Messages and FaceTime, a bug that caused Spotlight to stop displaying app results, and a problem that prevented multitasking gestures from working on the iPad.
iOS 8.1.3 also reduces the amount of storage space required to perform an iOS update and adds new configuration options for education standardized testing.
iOS 8.1.3, much like iOS 8.1.2, was a minor release that was not seeded to developers before being released to the public. The software is available immediately as an over-the-air download.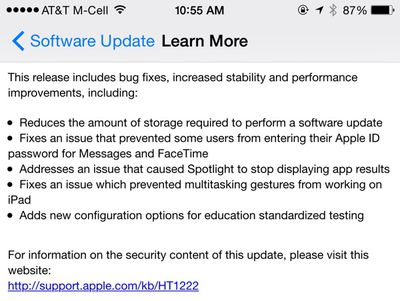 The first hints of iOS 8.1.3 first appeared in early December after devices running the updated operating system began visiting the MacRumors website, and usage picked up last week after iOS 8.1.3 was seeded to Apple retail employees for testing purposes. Apple appears to be expanding its OS X employee testing program to iOS, and iOS 8.1.3 marks the first iOS beta that's been tested by retail workers.
iOS 8.1.3 is a minor update that includes largely under-the-hood bug fixes, but Apple is also working on iOS 8.2, which will bring more drastic changes to the operating system as it contains both the WatchKit SDK and features that will allow the iPhone to integrate with the Apple Watch. It is not clear when Apple plans to release iOS 8.2, but it could come alongside the launch of the Apple Watch, which is currently rumored to be in March.
Update 10:38 AM: iOS 8.1.3 does not fix the recently publicized "GMT bug," which causes calendar syncing issues and time zone confusion for some affected iOS users.
Apple has also released a 7.0.3 software update for the third-generation Apple TV.