A growing number of users on Apple's support forums are reporting an issue with iOS 8 and the time zones of synced calendar events, reports Forbes. Known by users as the "GMT bug," the issue is causing confusion as calendar events sometimes see a secondary time zone (frequently GMT) added on.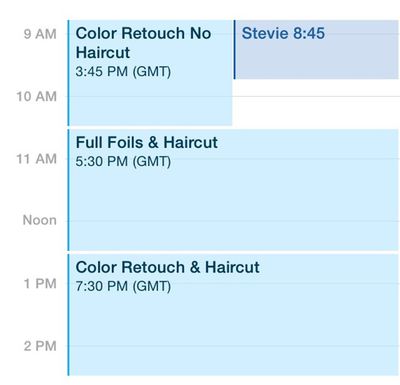 The issue is documented in a lengthy thread on Apple's support forums that was started shortly after iOS 8 was released, and it has continued to gain significant attention since that time. According to user reports, calendar events created in one time zone are converted to another timezone possibly when they sync across a server.
Most of the affected appointments originate from either Google or Microsoft Exchange calendars that are linked to the default iOS calendar app. While the appointment remains at the correct time for the user, the actual time setting becomes defined in GMT rather than the user's local time zone, which can cause issues if the user edits the entry without realizing the different time zone.
There are conflicting reports, however, over whether this behavior is indeed a bug or not. Apple support representatives reportedly have confirmed to
at least one user
that the company is aware of the issue and working on a fix, while others have been told this is expected behavior.
The issue may in fact be related to a "Time Zone Override" setting in iOS 8 that allows users to maintain a consistent time zone for their calendars even while traveling to different time zones, but even if the GMT addition is intended behavior the implementation is clearly causing confusion for many users.
Apple last updated iOS to version 8.1.2 in December with a fix for disappearing ringtones. A minor iOS 8.1.3 update is in testing with Apple engineers and retail staff, with a public launch expected soon. Developers are now also using iOS 8.2 betas, the fourth of which was released in last week. None of the public or beta versions of iOS are yet confirmed to contain a provision to address this issue.