Larger iPhone 6, 'iPad Pro' and iWatch Could Tap New Display Sizes in Development
Research firm DisplaySearch has once again tapped its sources in the display supply chain to assess what panel sizes and resolutions are currently under development, using that information to speculate on the display technology that may land in Apple's iPhone 6, new iPad and rumored iWatch. According to the firm's latest report, the iPhone 6 and iPad may receive size and resolution boosts in line with circulating rumors, while the iWatch could sport a flexible AMOLED display.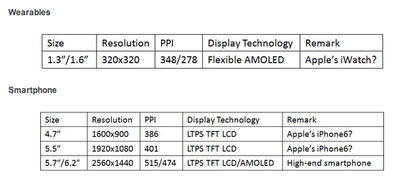 On the high end of the spectrum, DisplaySearch analyst David Hsieh predicts the iPhone 6 could ship with a 5.5-inch display that has a 1920 x 1080 resolution, yielding a density of 401 pixels per inch (ppi). The display would be a LTPS (low-temperature polysilicon) TFT LCD, which is the same technology used in a number of previous iPhone models. Another possibility is a smaller 4.7-inch LTPS screen with 1600 x 900 resolution and 386 ppi. Either configuration would bump the iPhone 6 up from the 4-inch, 1136 x 640 display found in the iPhone 5s, and a previous report has suggested that Apple could release both sizes.
On the iPad side of the equation, Apple may increase the size of the tablet and introduce a 12.0-inch "iPad Pro" model. This echoes several previous reports in recent months claiming that an oversized iPad with a 12.9-inch Retina display is entering production and may launch as soon as early 2014. There have, however, been no part leaks supporting the existence of such a device so far.
According to DisplaySearch, the 12.9-inch "iPad Pro" model could include a display with a resolution of 2732 x 2048 and 265 ppi, edging out the 12.2-inch panel Samsung introduced in its new Galaxy Tab Pro and Note Pro tablets. The Samsung models ship with a 12.2-inch display that has a 2560 x 1600 resolution and 247 ppi.
DisplaySearch also reiterates an earlier claim that the iWatch may ship in two different sizes. The firm's forecast predicts the Cupertino company may adopt a 1.3-inch display for women and a larger 1.6-inch display for men. Both sizes would sport a 320 x 320 resolution and would use flexible AMOLED technology. Rumors suggest Apple may debut its iWatch product sometime in 2014.