Foxconn Plans to Spend $2.6 Billion on Dedicated Apple Display Plant in Taiwan
Foxconn Technology Group has plans to spend NT$80 Billion, or $2.6 billion, over the course of the next two years on a new factory in Taiwan to produce displays exclusively for Apple, according to Bloomberg.
In a conversation with Sophia Chang, a public relations representative for Foxconn's display unit Innolux Corp., Chang stated that equipment installation will begin next month, although she would not confirm that Apple is the client for the facility. Following an urgent request for exclusive capacity, the mass production of panels is expected to begin by the end of 2015.
Chang also mentioned that the advanced sixth-generation display plant will be built at Innolux's Kaohsiung Science Park campus in Southern Taiwan. The forecast details that the funds for the plant will be spent over a two-year building period with the company planning to hire 2,300 employees to operate the facility.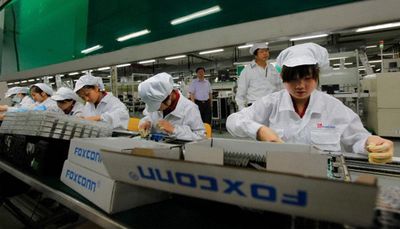 Foxconn has been a longtime manufacturer of Apple's products, primarily handling final assembly of the devices. After attempting to partner with Sharp in 2012 to focus on advancing LCD technologies, Foxconn was rumored to be in talks to utilize the Japanese display manufacturer's technology in order to start producing iPhone and iPad displays.
The company struggled to meet high demand for the iPhone 6 and 6 Plus when the two phones launched earlier this fall, sparking a large-scale hiring effort by Foxconn to meet production demands. Demand has been so high that Apple has reportedly tapped secondary manufacturer Pegatron to boost production on the iPhone 6, and perhaps even the iPhone 6 Plus, to help meet demand.
The new Taiwan plant announcement comes as Foxconn has reportedly been in discussions for a $5.7 billion display factory in Zhengzhou, China. Foxconn has been angling to become a larger player in the display market, seeking to win orders for iPhone and iPad displays and avoiding the sourcing of those parts from vendors like Samsung, LG Display, Sharp, and Japan Display.