iOS 8.1 Carries Hidden Settings for Apple Pay, References Touch ID Support for iPad
The first beta of iOS 8.1 seeded earlier today has not yet revealed a significant number of changes visible to regular users, but developer Hamza Sood has managed to uncover several interesting hidden settings and strings from the new version.
First, Sood shares a screenshot of a hidden Settings pane for Apple Pay inside. The pane will allow users to manage their entered credit and debit cards linked to Apple Pay, as well as define their default card, billing and shipping address, email, and phone.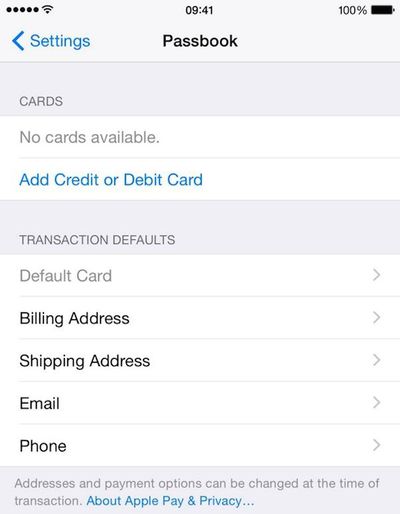 The Settings screen for Apple Pay also links to a privacy disclosure outlining how the user's card and device information and location may be sent back to Apple and perhaps passed on to the card issuer to determine eligibility and detect possible fraud.
Apple Pay will allow users to easily authenticate payments to their preferred credit and debit cards, using NFC for point-of-sale transactions with the iPhone 6 and 6 Plus and Apple Watch while also allowing for Touch ID-based authentication of purchase transactions in apps supporting Apple Pay. Apple has announced that Apple Pay will be launching in October, and iOS 8.1 is likely to be the update carrying that support, but the company has not yet flipped the switch to broadly enable it in this first developer seed.
While Apple has so far only announced that the iPhone 6 and 6 Plus and Apple Watch will be compatible with Apple Pay, Sood has also turned up evidence suggesting next-generation iPad models will include Touch ID support and Apple Pay. The evidence comes in the form of a code string addressing support for the services:
Pay with iPad using Touch ID. With Apple Pay, you no longer need to type card numbers and shipping information.
It is unclear whether the upcoming iPads will include NFC technology for point-of-sale transactions or if Apple Pay support on the iPad will be limited to app-based transactions, but Apple's upcoming iPad have been widely rumored to see the addition of Touch ID.