Apple May Launch 27-Inch Retina iMac With AMD Graphics as Soon as Next Month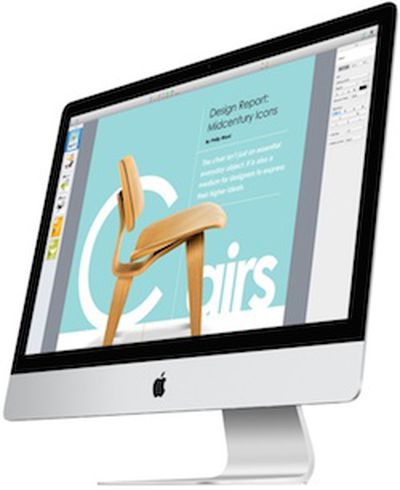 Following several recent reports on Apple's long-rumored ultra-thin 12-inch notebook, Jack March is now reporting that Apple is indeed working on a 27-inch "5K" Retina iMac with a resolution of 5120 x 2880. According to the report, which MacRumors has reason to believe is based on legitimate information, the machine could launch as soon as next month.
A source familiar with Apple's plans tells me that Apple is indeed planning to launch a Retina iMac at their next press event, however the 27″ Model will be the only model that gets this feature. The source says the new 27″ iMac will use a 5120 x 2880 panel as leaked in the OSX Yosemite code a few months ago. This resolution is double the current resolution of the 27″ iMac which is 2560×1440.
This new 27-inch Retina iMac would continue to use Haswell processors, topping out at the 4.0 GHz Core i7-4790K, as Intel's next-generation Broadwell processors will not be ready until possibly the middle of next year. The report also claims Apple will be switching to AMD graphics for this new iMac, while the overall design and port configuration would remain the same as the current model.
The report's sources suggest the move to Retina will be limited to the larger 27-inch iMac at this time, with the 21.5-inch model continuing to use the current 1920 x 1080 display.
Rumors of a 27-inch Retina display or iMac from Apple have been circulating for some time, but have picked up steam in recent weeks with a specific claim of a 5K Apple display launching before the end of the year, as well as Dell's own announcement of such a display. With finalization of the DisplayPort 1.3 specification, connectivity will also become easier as that standard rolls out, allowing for single-cable uncompressed video at 5K resolutions.
Update 6:46 AM: 9to5Mac is hearing similar information about Retina iMacs being in "late testing stages" at Apple.
Update 9:00 AM: Re/code's John Paczkowski is also hearing similar word.
Update 10:22 AM: Paczkowski has now included a blurb on the topic in his latest column, quoting a source saying "expect a fall release."