iOS Simulator Shows Possibility of iPad-Like Landscape Apps on 5.5-Inch iPhone 6
Recently, a number of recent reports and rumors have suggested a variety of different resolutions for Apple's larger 5.5-inch iPhone 6. Prominent Apple blogger John Gruber speculated that the company will ship a 2208 x 1242 display at a "3x" Retina resolution for the device, while the current iOS 8 beta also indicates a preference for displaying 3x images when available.
Now, developer Steven Troughton-Smith (via 9to5Mac) has modified Apple's iOS Simulator to show what apps may look like on a 5.5-inch iPhone 6 that contains a 2208 x 1242 display, suggesting that they could use a landscape orientation to provide a more productive iPad-like experience.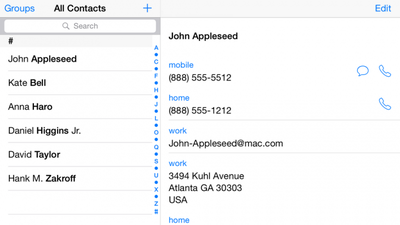 For example, the Calendar app would be able to display the view of an entire month similar to the iPad, while the Phone app may be able to show separate sections for contacts and single contact info.


Troughton-Smith notes that this view enables more apps like Game Center to run in landscape at the given size. The developer also states that these landscape views are not possible at a resolution of 1472 x 828, which has been a suggested resolution for the 4.7-inch iPhone 6. Support for the technologies that enable this interface were also built into iOS 8 under the term "Adaptive UI."
Apple's 4.7-inch and 5.5-inch iPhone 6 are expected to be unveiled alongside the iWatch at the company's media event this Tuesday. The larger iPhone 6 is also said to come with a number of exclusive features aside from a larger display, including optical image stabilization, a faster processor, larger storage capacity options, and more.