5.5-Inch iPhone 6's A8 Processor May Be More Powerful Than in 4.7-Inch Model
Cowen & Co. analyst Timothy Arcuri claims the 4.7-inch and 5.5-inch iPhone 6 will differ in more than just display size, reports AppleInsider. According to Arcuri's supply chain checks, the 5.5-inch iPhone 6 may include a more powerful processor and a different touch module than the 4.7-inch model.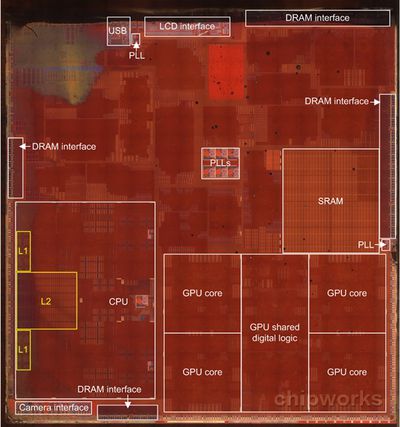 Details on the degree of processor difference between the two models were not provided, but the report suggests it may be more than a simple difference in clock speed as seen in the A7 used in the current iPads and iPhone 5s. The A7 in the iPad Air is clocked at 1.4 GHz, while the same chip in the Retina iPad mini and iPhone 5s is clocked at 1.3 GHz.
Arcuri suggests the processor in the faster 5.5-inch iPhone 6 may actually have a larger die than the version found in the 4.7-inch model. This architectural change may hint at an A8 processor with a different graphics processor or possibly a new process for the fabrication of the chip.
Besides two different processors, Arcuri also believes the two iPhone 6 models may ship with different touch modules, with TPK as the likely manufacturer.
Apple is expected to unveil the iPhone at a September event with the 4.7-inch model possibly arriving first and the 5.5-inch following up to several months later.