Outlining the Case for 1334 x 750 and 2208 x 1242 iPhone 6 Retina Displays
Throughout the past few months, a number of rumors have suggested many different resolutions for both the 4.7-inch and 5.5-inch iPhone 6, giving a variety of reasons as to how Apple will best optimize a larger screen size for both users and developers.
Prominent Apple journalist John Gruber has now given his in-depth take on the subject, suggesting that the 4.7-inch iPhone 6 will likely feature a resolution of 1334 x 750 with 326 pixels per inch, while the 5.5-inch iPhone 6 would most likely have a resolution of 2208 x 1242 with 461 pixels per per inch. While Gruber insists that he has no specific knowledge of these resolutions for the iPhone 6, he makes a strong case for why they make the most sense for Apple.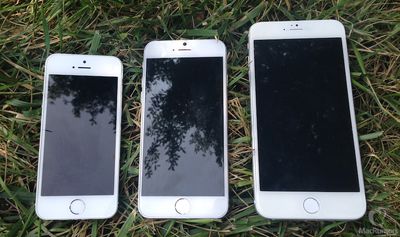 4.7-inch and 5.5-inch iPhone 6 mockups compared to iPhone 5s
Gruber notes that keeping the current "2x" Retina resolution at 326 ppi on the 4.7-inch iPhone 6 would be consistent with Apple's previous patterns on iOS devices:
At 4.7 inches, 1334 × 750 works perfectly as a new iPhone display, addressing problem #1, showing more content. With point dimensions of 667 × 375, this display would show 1.38 times more points than the iPhone 5. At 326 pixels-per-inch, everything on screen would remain exactly the same physical size. There would just be 38 percent more room for content.
Gruber also adds that moving to a "3x" Retina resolution at 461 ppi for the 5.5-inch iPhone 6 would display an even greater amount of content while being able to render the same Retina pixels on a larger scale:
Everything works at these dimensions for a 5.5-inch display. With an increase in area of 68 percent and a scaling factor of 1.06, this display would address both reasons why someone might want a very large iPhone: it would show a lot more content, and it would render everything on screen, point-for-point, a little bit bigger. And at 461 pixels-per-inch, everything would be amazingly sharp.
In both of those examples, existing apps would still be able to run at such resolutions, as optimizing current apps would be made easier considering the scaled nature of the displays.
The given 1334 x 750 resolution of the 4.7-inch iPhone 6 contrasts with information shared by luxury modified iPhone vendor Feld & Volk earlier this week, which came with a photo showing the display of the 4.7-inch iPhone 6 under a microscope with a pixel density higher than 326 ppi, perhaps 1704 x 960. That resolution has also been cited in previous rumors, but Gruber claims in his post that an iPhone 6 with a resolution of 1704 x 960 would only work well for 4.0-inch displays, as it would not show any additional content compared to the iPhone 5 when measured in touch points.
Gruber also comments on the possibility of both a 4.7-inch and a 5.5-inch iPhone 6 with a resolution of 1472 x 828. The claim states that such a resolution on the 4.7-inch device would render UI elements and text about 10 percent smaller, while such a resolution on the 5.5-inch device would equal out to be 307 pixels per inch, or only marginally better than Apple's original definition of the Retina display as being at least 300 ppi.
The iPhone 6 is expected to be unveiled on Tuesday, September 9 at a media event. It is likely that the 4.7-inch version will go on sale about a week after the announcement, but the 5.5-inch may be held back due to production issues. In addition to a larger display, the iPhone 6 will likely feature a thinner design, a faster A8 processor, an improved camera, a more durable Touch ID sensor, and more.