Apple Employees 'Set Low Expectations' For iWatch Battery Life
Ahead of the expected debut of Apple's wearable at Tuesday's media event, Jessica Lessin of The Information (via Business Insider) has shared some hints on what the device's battery life might be like. According to her report, employees familiar with the device have "set low expectations" for its battery life.
Lessin did not give details on how long the iWatch's battery might last, but past rumors have suggested that battery life was one of the main areas Apple was struggling with during the device's development.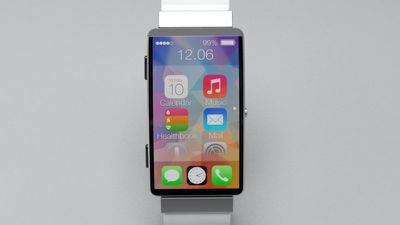 2.5-inch

iWatch concept

from SET Solution with curved, rectangular display
In the build-up to the new Apple Watch, it is easy to get seduced by the rumored features. Curved screen! Wireless charging! Jony Ive thinks it's slick!

But--and I hate to burst everyone's bubble here--the appeal of the world's most highly anticipated wearable computer is going to come down to something a lot more mundane: battery life.
News of battery life issues first surfaced in March of 2013, suggesting iWatch prototypes had been seeing poor battery life, in the range of a day or two. At the time, Apple was said to be aiming for four to five days before charging, but it's unknown if the company managed to hit that goal.
In light of battery issues, Apple explored several different charging technologies for the device, including solar charging, motion charging, and wireless charging. Solar charging was a bust, but according to rumors, the final device will ship with wireless charging capabilities, which could help to reduce the burden of frequent charges.
With just four days to go until Apple's wearable device is unveiled, rumors have been picking up. Recent information for the iWatch points towards two display sizes, a curved OLED display, a range of band options, a multitude of high-quality sensors, and NFC support, in addition to the aforementioned wireless charging.
Though we expect to see the iWatch at Apple's upcoming iPhone 6 event, many reputable sources have suggested the device won't ship to consumers until early 2015.