Prototype 2,915 mAh Battery for 5.5-Inch iPhone 6 Once Again Shown in Photos
New photos shared by Nowhereelse.fr [Google Translate] once again claim to show a 2,915 mAh capacity battery from the 5.5-inch model of the iPhone 6. These details follow an earlier Nowhereelse.fr report that showcased a claimed rear shell from the larger 5.5-inch iPhone 6 model.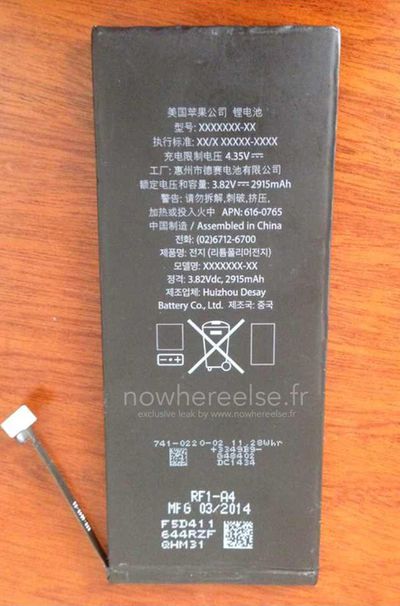 The battery in these latest photos appears identical to one detailed in a leak last month from Chinese site Apple Daily, down to the March 2014 manufacturing date. The authenticity of either part is unconfirmed, but both batteries have markings similar to other Apple batteries and appear to be sized for a larger iPhone model. Both are also still from the prototype stage, with placeholder text used in several locations on the batteries.
If legitimate, this 2,915 mAh capacity is a significant jump from the 1,560 mAh battery included in the iPhone 5s and the 1,810 mAh rumored for the 4.7-inch iPhone 6. It also places the iPhone 6 on par with other larger-sized phones such as the Samsung Galaxy S5 and the HTC One M8. A significantly larger battery for the 5.5-inch model compared to the 4.7-inch would be possible due to the much larger volume available inside the device with the larger display. That larger display may also arrive at much higher pixel count which would necessitate a larger battery to support it.
Apple is expected to unveil the iPhone 6 at a press event to be held September 9 at the Flint Center in Cupertino, California. The new iPhone 6 appears set to include a rounder design, faster A8 processor, improved Touch ID sensor, near field communications (NFC) capabilities, and a new camera stabilization feature.