New Photos of Purported iPhone 6 Battery Show 1,810 mAh Capacity
New photos of a purported battery from the 4.7-inch iPhone 6 (via Nowhereelse.fr, Google Translate) appears to show a capacity of 1,810 mAh for the upcoming device. If legitimate, that capacity would be a modest improvement over the 1,560 mAh battery in the iPhone 5s, and would be in line with a report earlier this month that estimated the 4.7-inch iPhone 6's battery to be between 1,800 and 1,900 mAh.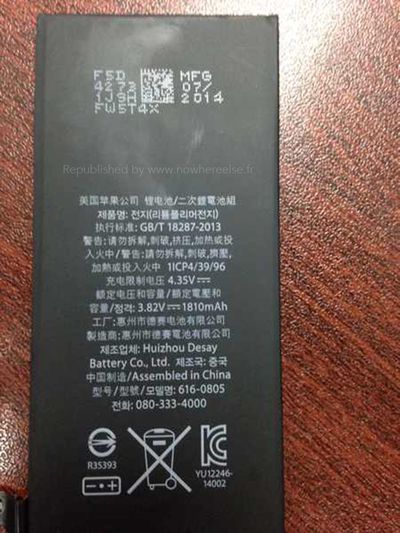 A capacity of 1,810 mAh would place the iPhone 6 behind competing phones such as the Samsung Galaxy S5 and the HTC One (M8), which were both released earlier this year. However, Apple's traditionally tight hardware and software integration may contribute to a greater overall battery life, as iOS 8 will likely be optimized for the iPhone 6 to allow for the best performance.
Apple is expected to unveil the iPhone 6 at some point in September. The device will likely be released in two sizes of 4.7-inches and 5.5-inches, and is likely to feature a thinner profile with curved edges, a faster A8 processor, and an improved camera. It is currently unknown if the 4.7-inch and 5.5-inch versions will launch simultaneously, as recent reports have suggested the latter will launch after October or early in 2015.