Apparent Photo of 5.5-Inch iPhone 6 Battery Reveals 2,915 mAh Capacity
A purported photo of the 5.5-inch iPhone 6's battery on Chinese site Apple Daily [Google Translate] (via Macotakara) alleges that the larger new iPhone could have a capacity of 2,915 mAh. The photo shows the battery carrying an Apple part number of 616-0675 and that it runs at 4.35 volts, although no model number is shown.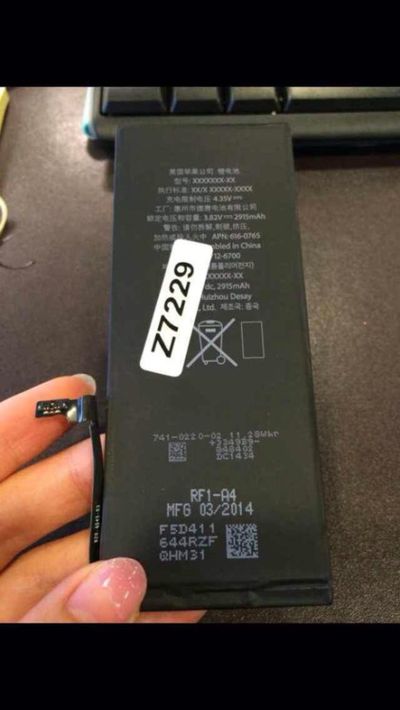 While it's difficult to confirm the authenticity of the battery, it does appear to have markings similar to other Apple batteries and looks to have the necessary proportions to fit the 5.5-inch iPhone.
Reports have claimed that the final battery capacity for the 4.7-inch model would be 2,100 mAh, so a battery capacity of 2,915 mAh would make sense for a phone less than an inch bigger. It would also put the 5.5-inch iPhone 6's battery closer to the specs of the 5.1-inch Samsung Galaxy S5's 2,800 mAh battery.
Apple will unveil the iPhone 6 at an event on Tuesday, September 9, with the 4.7-inch model likely launching soon after introduction. The event may also introduce the 5.5-inch iPhone 6, but the model could only be released months later as Apple is having some production issues with the device.