Apple May Adopt 1704 x 960 Resolution Display for Upcoming iPhone 6
Apple's next generation iPhone 6 may adopt a higher resolution display, jumping from the current iPhone 5s resolution of 1136 x 640 to a sharper 1704 x 960 resolution, reports 9to5Mac. On the rumored 4.7-inch model, this would result in a display with 416 ppi and the same 16:9 ratio of the iPhone 5/5s/5c, while a 5.5-inch model at the same resolution would carry a density of 356 ppi.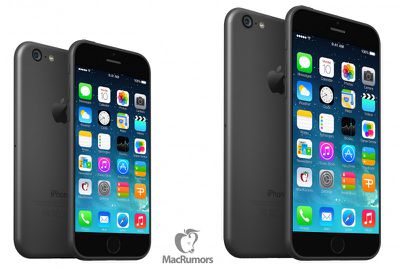 With Apple's rumored move to larger displays in the iPhone 6, much discussion has been centered around what resolution Apple will use and how any changes would affect developers. Some speculation had suggested Apple might simply maintain the same resolution as on the iPhone 5s, making a seamless transition for developers. This stretch process would, however, drop the pixel density of the display below Apple's criteria for a "Retina" display.
Alternatively, Apple could boost the resolution to maintain or increase the pixel density, although this move would require work from app developers to maintain compatibility with the new devices. KGI Securities analyst Ming-Chi Kuo suggested last month that Apple would maintain the current 326 ppi density, which could be achieved by bumping a 4.7-inch display to 1334 x 750, and we previously explored how that might work.
But according to 9to5Mac, Apple may adopt an even higher-resolution display that triples the base number of pixels of the iPhone screen in both length and width. This "3x" mode would take the base "1x" resolution of 568 x 320 and expand it to 1704 x 960. Using this method, Apple would retain the Retina branding at 416 ppi and keep the current 16:9 ratio of the iPhone 5/5s/5c.
This means that Apple will likely be tripling the aforementioned "base resolution" (568 x 320) of the iPhone screen in both directions, and that the iPhone screen resolution will be scaled with an increase of 150% from the current 2X resolution of 1136 x 640. Of course, Apple tests several different iPhones and display technologies, so it is possible that Apple chooses to take another route for display specifications for the 2014 iPhone upgrade.
Apple has allegedly been testing this 1704 x 960 resolution and while the design specs for the iPhone 6 are undoubtedly complete, it is not known for sure if Apple has elected to proceed with this resolution. Apple may be preparing to launch the 4.7-inch iPhone 6 sometime this fall with a faster A8 processor and improved camera technology.