4.7-Inch iPhone 6 Screen Put Under Microscope as New 1472 x 828 Resolution Emerges
Amid rumors of both 4.7-inch and 5.5-inch versions of the iPhone 6, speculation about what resolutions Apple will use for the new devices has generated a number of different theories. The most concrete suggestion so far has been a 1704 x 960 resolution that could see the current "2x" Retina display move to an even sharper "3x" display.
A new photo from Russian luxury modified iPhone vendor Feld & Volk [Instagram page] now shows the display of the 4.7-inch iPhone 6 under a microscope, with the firm telling MacRumors the panel does indeed carry a resolution of 1704 x 960.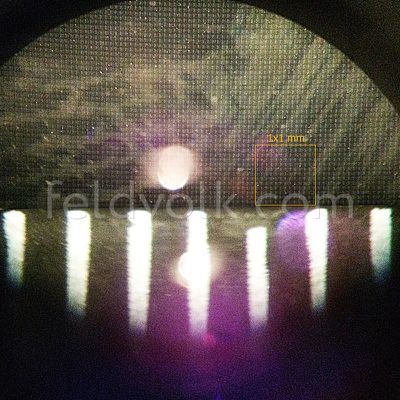 The photograph posted by Feld & Volk does not, however, necessarily appear to agree with that claim, as it seems to show roughly 13 pixels per mm in the horizontal and vertical directions, while a 4.7-inch display at 1704 x 960 should be closer to 16 pixels per mm. The current iPhone 5s display is roughly 10.5 pixels per mm.
A potential answer to this problem arrives in another report today from 9to5Mac, which has discovered references to yet another resolution of 1472 x 828 within recent Xcode 6 beta releases.
This particular file outlines for the system where icons, by default, will be placed on an iPhone's Home screen. This particular file, which was added in Xcode 6 beta 5 earlier this month and still exists in yesterday's Xcode 6 beta 6, is optimized for an iPhone with a resolution of 414 (width) x 736 (height). The iPhone SDK parses hardware resolutions via "point values," so the actual "Retina" resolution is in fact double (or potentially triple) whatever numbers the SDK presents.
While analysis quickly becomes speculative, one way Apple could use both of these rumored resolutions would be to to launch a 4.7-inch iPhone at 1472 x 828 and a 5.5-inch model at 1704 x 960. In that scenario, both iPhone 6 models would have pixel densities of 355-360 pixels per inch. This translates to roughly 14 pixels per mm in each direction, close to what is seen in the Feld & Volk photograph.
Depending on how the rumored 4.7-inch and 5.5-inch sizes have been rounded for convenience, the two iPhone 6 panels could actually offer the exact same pixel density, slightly higher than current iPhones and allowing for efficiencies in the manufacturing process if the same technologies and production methods are used in the two new models.
Apple is expected to introduce the iPhone 6 at a media event on September 9, but it remains unclear whether the company plans to show off both models at the same time, and even it does, there have been rumors that the larger model should ship up to several months later than the smaller version.