Claimed iPhone 6 Front Frame with LCD Shielding and Home Button Bracket Shown in New Photo [Updated]
Purported parts for the iPhone 6 are continuing to surface, with Apple.club.tw sharing a new blurry photo [Google Translate] of what appears to be the front LCD frame of the device, complete with metal shielding that would separate the LCD itself from the remainder of the internals, as well as a metal bracket covering the home button.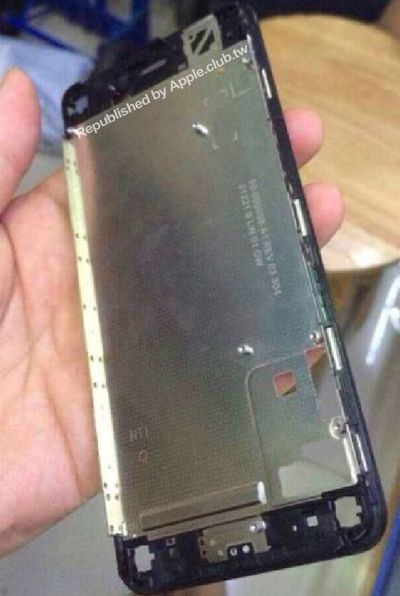 While it is not confirmed that this part is indeed from the 4.7-inch iPhone 6, it is consistent with similar parts seen on previous iPhones. Apple.club.tw claims that it is the proper size for the larger iPhone 6, and that certainly appears reasonable based on how it looks in the hand.
The front panel seen in several recent photo and video leaks would attach to the opposite side of the frame shown in the new photo, covering the LCD and providing the smooth look of the device's front. That entire assembly would be fitted to the rear shell also seen in recent leaks, sandwiching around the battery, logic board, and other internals of the iPhone 6.
Update Jul 24 4:30 PM: According to an iFixit teardown, this part was actually for the Amazon Fire Phone.