Microsoft's Office for iPad Team Discusses Ballmer's Role in Launch, Mac Synergy, and More
Since Microsoft Office for iPad was released shortly after Satya Nadella
took the reins at Microsoft
, many assumed that he had given the final go ahead for the
release
of the software. As it turns out, it was actually
outgoing CEO
Steve Ballmer who gave the green light for the launch of the project.
The details come from a new "
Ask Me Anything
" session on Reddit with Microsoft's Office for iPad team. On the post, a user asked how many of the company's recent moves could be attributed to Ballmer and the team states that the decision to ship Office for iPad was made before Satya became CEO.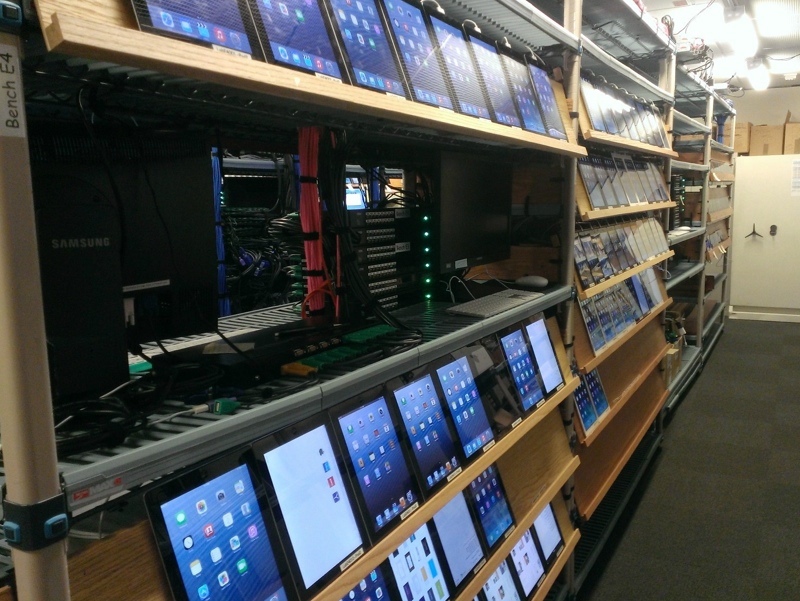 Microsoft's Office for iPad Testing Lab
The decision to ship Office for iPad was made before Satya became CEO. Steve Ballmer approved the plan to ship Office for iPad. -- Kaberi, Technical Product Manager, Office for iPad
Office for iPad was in development for years before it was
released to the public
in March, with hints of the software
first appearing
in 2011 and a prototype
surfacing
in 2012. Microsoft was initially focusing on bringing the Office software to its own line of touch-based tablets before bringing it to the iPad, but the company reversed course earlier this year and launched the software. The team commented on the delay:
Since we were designing Office for iPad from a "blank slate" so to speak, we wanted to take the time to deliver the highest possible quality Office experience that is fully optimized for the iPad. A wise man once said, "Details matter, it's worth waiting to get it right." That rings true for how we thought about it.Han-yi Shaw, Group Program Manager & Design Manager for Office for iPad
Thus far,
Microsoft Word
,
Excel
, and
PowerPoint
have done well in the App Store, hitting the top of the Free App Store Charts
within a single day
. Microsoft
announced
last Friday that the apps had reached a collective 12 million downloads since release, and they remain the top three free iPad apps in the App Store.
Though Microsoft's apps are available for free from the App Store, creating and editing documents requires an Office 365 subscription, which is priced at $9.99/month or $99.99/year. Apple receives a 30 percent cut of subscriptions that are purchased within the App Store, making the apps lucrative for both companies.
Aside from giving details on the release of Office for iPad, the Microsoft Team also gave out information on when to expect new features. Printing, a feature lacking from the existing version of the software is "a high demand feature that [Microsoft] intends to introduce in due course."
When asked about a possible update to Office for Mac, the team did not hint at a release date, only confirming that the software is indeed in the works. They did note that Office for iPad has sped up development on Office for Mac, however, as the code for the products is shared and the development platforms are similar.