Microsoft Launching Word, Excel, and PowerPoint for iPad Today
In his first major public event as Microsoft CEO, Satya Nadella today headlined a media event to introduce Office for iPad, in line with earlier rumors. Word, Excel, and PowerPoint for iPad are now live in the App Store as of 11:00 AM Pacific Time.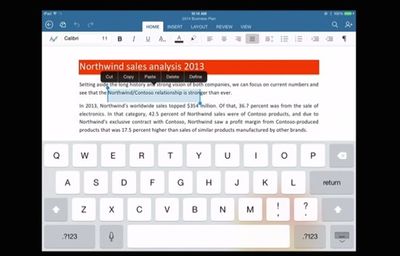 Word for iPad
All three apps will be free downloads and will include viewing and presenting capabilities free of charge. Users wishing to edit or create documents with the apps will need an Office 365 subscription, which is priced at $9.99/month or $99.99/year for a Home Premium package allowing access from multiple computers and mobile devices.
Starting Thursday, Office 365 subscribers can simply add an iPad as one of their chosen devices included in their subscription benefits, and can create and edit documents with Word for iPad, PowerPoint for iPad and Excel for iPad. These apps are available as free downloads from the App Store, enabling people to read and present documents, spreadsheets and presentations. Office for iPad brings full file fidelity across Office on PC, Mac, tablet and phone, and along with cloud storage from OneDrive or OneDrive for Business your files are up to date, wherever you need them on whatever device you want to use.

Microsoft
acknowledged
soon after the introduction of the original iPad back in 2010 that it was looking at the possibility of bringing its Office suite to the tablet, and by early 2012 a reported
prototype
shown by
The Daily
. Microsoft's plans remained in flux, however, with the company reportedly
reluctant
to embrace the iPad as it sought to push forward with its own Windows tablet initiative with Surface.
With Nadella now running Microsoft, the company has finally committed to releasing Office for iPad, although some argue that it is too late given that an entire generation of users have already moved on to embrace other mobile-friendly productivity solutions.
Update 10:50 AM: The event is over and Microsoft has published its press release. The press conference is also available for on-demand replay, while the company has published a blog post covering the release.
Re/code also has a review and video overview of the new suite:
Update 11:00 AM
: All three apps are now available for download from the App Store:
- Microsoft Word for iPad [Direct Link]
- Microsoft Excel for iPad [Direct Link]
- Microsoft PowerPoint for iPad [Direct Link]