Microsoft Office Apps Top App Store Charts One Day After Release
Just a day after being released into the App Store, Microsoft's new iPad Apps, including Word, Excel, and PowerPoint, appear to be quite popular with consumers, ranking as the top three free iPad apps in the App Store, with the redesigned Microsoft OneNote in the number four spot.
Microsoft Word for iPad is ranked as the number five top grossing app, while Excel is ranked twelfth, indicating Microsoft's downloads are raking in some cash in the form of Office 365 subscriptions, which are available within the apps as a $9.99/month or $99/year purchase. Users can also purchase Office 365 subscriptions outside of the app, however, which would not influence App Store charts.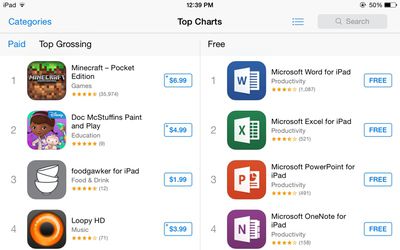 While Microsoft's apps can be downloaded at no charge and allow documents to be viewed or presented, creating and editing documents requires an Office 365 subscription that also earns Apple a 30 percent cut of each in-app purchase, making the current success of the apps beneficial to both companies.
Microsoft Office apps for the iPad have been a long time coming, with Microsoft first indicating its intention to work on mobile Office apps in 2010. In early 2012, a prototype design of Office for iPad surfaced, but it wasn't until Satya Nadella took over as CEO that the apps actually saw a release.
In the past, Microsoft has used the lack of Office productivity apps on the iPad as a main advertising point for its Surface Tablet, attempting to lure customers to the product on the strength of its popular productivity software. That strategy was largely unsuccessful, however, as the original Surface failed to catch on with consumers.
All three of Microsoft's productivity apps can be downloaded from the App Store for free, with full functionality unlocked through an Office 365 subscription. While Office for iPad requires Office 365, Microsoft yesterday updated Microsoft Office Mobile for iPhone to allow both viewing and editing for free, no subscription required.
- Microsoft Word for iPad [Direct Link]
- Microsoft Excel for iPad [Direct Link]
- Microsoft PowerPoint for iPad [Direct Link]
- Microsoft Office Mobile for iPhone [Direct Link]