Microsoft Paying Apple 30-Percent Cut on In-App Office 365 Subscription Purchases
Microsoft is paying a 30-percent cut to Apple on Office 365 subscription purchases made within the Office for iPad apps released today, in line with Apple's in-app purchase requirements required of other brands reports Re/code. This was previously a sticking point between the two companies, and was rumored to be a large part of why Microsoft wouldn't release Office on the iPad.
However, Microsoft's new CEO, Satya Nadella, is apparently more willing to work within Apple's requirements than ousted CEO Steve Ballmer. Year-long Office 365 subscriptions are available for in-app purchase for $100, with the subscription good for downloading Office on up to five tablets and five computers, Mac or PC computers, and Android, Windows or iOS tablets.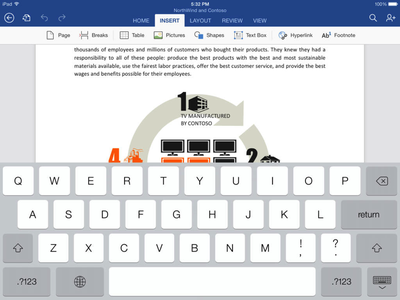 Indeed, Microsoft does offer Office 365 subscriptions within the just-released Word for iPad and the other Office apps and, yes, it is paying the 30 percent cut, Apple confirmed to Re/code. Microsoft declined to comment on the matter.

Apple has taken a hard line with all manner of publishers that want to sell things, even subscriptions that go well beyond the iPad content — if anything is sold in the app, they have to use Apple's method and hand over 30 percent.
Apple CEO Tim Cook tweeted to welcome Office for iPad to the App Store, with Nadella tweeting back that Microsoft was "excited to bring the magic of Office to iPad customers". During Nadella's press conference today, he said the company was looking to "empower people to be more productive" and to "do more across all devices".
Microsoft Office for iPad is a free download from the App Store, with Office 365 Home Premium available for $10/month or $100/year good for five tablets and five computers, with an Office 365 Personal subscription good for one computer and one tablet coming later this year for $7/month or $70/year.
There are also separate business options available as well, with billing based on total seats.
- Microsoft Word for iPad [Direct Link]
- Microsoft Excel for iPad [Direct Link]
- Microsoft PowerPoint for iPad [Direct Link]