Microsoft Surface Estimated to Have Sold Only 1.7 Million Units Since Launch
Microsoft filed its annual Form 10-K with the Securities and Exchange Commission (SEC) today, revealing that the Microsoft Surface lineup has garnered only $853 million in revenue for the company, which is less than the recent $900 million writedown the company took for the Surface RT.
And as GeekWire notes, it's also less than the "$898 million increase in advertising costs associated primarily with Windows 8 and Surface." The numbers account for all Surfaces sold from the device's original fall launch until the end of Microsoft's fiscal year on June 30.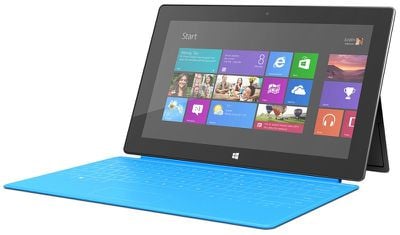 While Microsoft did not reveal how many Surface units it sold, GeekWire does estimate that it sold approximately 1.7 million units by the end of June, which roughly corroborates a Bloomberg report in March claiming that Microsoft had sold 1.5 million Surface devices.
As The Loop's Jim Dalrymple points out, Microsoft has sold 1.7 million Surface units in 8 months, which is a far cry from the 3 million iPads Apple sold in 3 days last November, the 14.6 million iPads it sold last quarter and the 57 million iPads Apple sold since the Surface launched.
Late last week, Microsoft CEO Steve Ballmer told employees at an internal Microsoft town hall meeting that the company had "built more devices than [Microsoft] could sell" in reference to slowing Surface sales. Recently, Microsoft has been trying to sell more devices by aggressively marketing the Surface RT as an iPad competitor with negative ads and was forced to drop the price of its Surface RT prices by $150.
Despite the slow sales of the Surface tablets, Microsoft is said to be pushing forward with plans for a second generation tablet.