'Haunted Empire' Profiles Apple After Steve Jobs as a Company on the Decline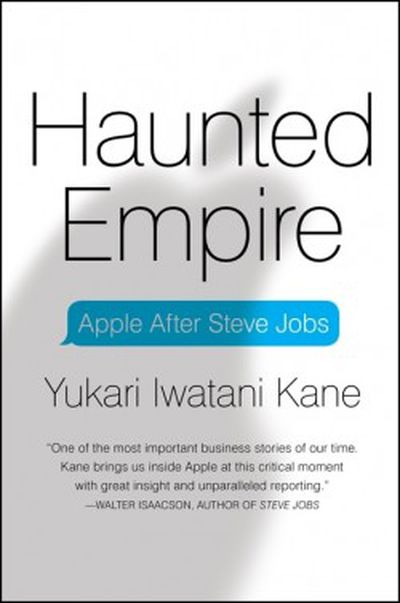 Former Wall Street Journal reporter Yukari Iwatani Kane's highly anticipated book, Haunted Empire: Apple After Steve Jobs, debuts tomorrow with the goal of examining Apple's transition following the death of Steve Jobs.
While the book includes some interesting tidbits such as Jobs' comments on TV at a 2010 company retreat, Haunted Empire will likely not sit well with many Apple fans given Kane's thesis that the company is entering a period of decline without Jobs' guidance. That may indeed be the case, but the impression Kane gives readers is that she reached her conclusion before even embarking on the project, proceeding to selectively choose anecdotes to support her predetermined view.
Haunted Empire has relatively little praise for Apple, offering a rather disjointed series of chapters jumping from one topic to the next in an effort to show how dysfunctional Apple has become without Jobs. The book begins with a prologue setting the stage for Apple's transition with a description of the company's celebration of Steve Jobs following his death in October 2011. The first few chapters then focus on Jobs' earlier decline in health, including inside details on his 2008 conversation with New York Times reporter Joe Nocera regarding his health issues.
As Jobs began to move to the sidelines with several medical leaves of absence, Tim Cook's star began to rise with his handling of Apple's day-to-day operations, and his so-called "Cook Doctrine" shared on an earnings conference call in January 2009 offered the first good look at the executive's philosophy. Apple was flying high at that point on strong iPhone growth, but Kane alleges that Jobs resented Apple's success under Cook's stewardship:
Jobs returned to Apple at the end of June [2009] just as had said he would. On his first day, he threw a series of tantrums, ripping people apart and tearing up marketing plans. When Jobs heard about the press's sterling evaluation of Cook's performance, he hit the roof. Cook had done an excellent job, but the leadership and skill he showed in doing so was unsettling. He was also still sore about the "Cook Doctrine." Jobs chewed him out in a meeting with other executives.

"I'm the CEO!" Jobs yelled.
In support of her argument that Apple has been on the decline for some time now, Kane proceeds to cite a series of events dating back to Jobs' final years, including the lost iPhone 4, "Antennagate", and a Daily Show segment in which Jon Stewart took Apple to task for its handling of the lost iPhone 4 situation. Even Apple's dispute with Adobe over Flash is painted as a losing situation for Apple:
[T]he victory cost Apple. The fight with Adobe enforced the perception that Apple was turning into an eight-hundred-pound gorilla. Despite Jobs's justifiable reasons to exclude Flash from the iPad, Apple came across as an oppressor. The controversy tarnished the empire's sterling brand image.
Once Jobs stepped down as CEO for good in August 2011 just six weeks before his death, Cook was better able to assert himself and Kane notes that Cook got off to a good start by promoting popular services chief Eddy Cue to a senior vice president position and instituting a matching program for employees' charitable gifts.
But Cook soon faced a number of new problems, including a lukewarm reception to the new Siri personal assistant introduced on the iPhone 4S, issues with working conditions at manufacturing partner Foxconn and other suppliers as highlighted in a Pulitzer Prize-winning series of "iEconomy" articles from The New York Times, and the wide-ranging patent wars with Samsung, HTC, Nokia, and others.
Kane spends several chapters addressing the patent battles and the Samsung dispute in particular, arguing that while Apple has seen some victories in court, the effort has ultimately proven fruitless given judges' unwillingness to issue injunctions that would prevent Samsung from selling any of its most popular models of smartphones and tablets over infringement issues.
Beyond the growing patent battles, other issues continued to mount for Cook, including the Maps iOS app debacle that led to the ouster of iOS chief Scott Forstall, the e-book pricing investigation, criticism from Chinese state-run media, and tax issues.
Kane gives Cook relatively high marks for his U.S. Senate committee testimony on the tax issue, but otherwise argues that Cook has been unable to make his mark on Apple, with his low-key demeanor and a lack of significant product releases generating little excitement around the company. Even Apple's effort to bring Mac manufacturing back to the United States is played off as a minor development, with Apple's $100 million investment a "pittance compared to its $137 billion cash hoard" and the company having to partner with Flextronics on Mac Pro assembly because the project was "too insignificant for Foxconn to care."
The last several chapters bring readers close to the present time, including a critical look at Cook's May 2013 appearance at the D11: All Things Digital conference in which Walt Mossberg and Kara Swisher peppered Cook with a series of hard questions about Apple's product plans, competition from Android, and the weight of the patent wars.
The performance was a disaster. Cook came across as delusional and painfully out of touch. If he was truly unfazed by the host of problems facing Apple, if he actually believed that everything was going well, then the company was really in trouble.
Apple's Worldwide Developers Conference 2013 and the introduction of iOS 7 are also addressed, with Kane taking exception to executives' repeated efforts to dismiss much of the previous design work led by Scott Forstall.
Fathoming the motives behind the ridicule required the skills of a Kremlinologist. Why was Apple's leadership wasting its time tearing down someone they'd already shoved out into the cold? Why so much animus over fake green felt? Did they really believe that the world recoiled under the tyranny of skeuomorphism? The putdowns may have been a kind of chest thumping, intended to trumpet the alpha ascendancy of Cook and Ive, who led the overhaul of the mobile software. Maybe they wanted to underscore that they had won that Forstall had lost. Even more intriguing was the possibility that the real target might not have been Forstall, but their visionary founder. [...] Was this Apple's odd way of declaring independence from his legacy?
In an epilogue written in November, Kane leaves no doubt of her belief that Apple is on a downward slide, led by "a man laboring at an impossible task" with "no spark" and "no fire" in the way he presents his company to the world.
The truth is, Apple used to be exceptional. Not necessarily in its behavior, which was often predatory. But certainly in its ability to inspire. Those days are waning. Outside the echo chamber of Apple's headquarters, the notion of the company's exceptionalism has been shattered.
Haunted Empire: Apple After Steve Jobs debuts on Tuesday, March 18 and is available from a variety of outlets including Amazon and Apple's iBooks Store.