Tim Cook Posts Letter to Chinese Apple Customers Announcing Changes to iPhone 4/4S Warranty Policies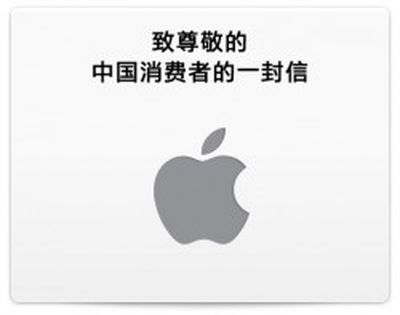 Over the past several weeks, state-run media and other outlets in China have criticized Apple over the company's warranty practices in the country.
The company had posted a letter to customers defending its practices as going above and beyond requirements of Chinese law, but as noted by Business Insider, Apple has now posted a new letter from CEO Tim Cook [Google translation] announcing changes to its warranty policy. From the Google translation:
We are aware that, due to the lack of external communication in this process and lead to the speculation that Apple arrogance, do not care or do not attach importance to consumer feedback. We express our sincere apologies for any concerns or misunderstandings this gives consumers.

In order to further improve the level of service, we are implementing the following four major adjustment:

- Improved iPhone 4 and iPhone 4S repair policy
- Provide a concise and clear on the website of the official Apple repair and warranty policy statement
- Increase the intensity of the supervision and training of Apple Authorized Service Provider
- Related issues to ensure that consumers can easily contact Apple Feedback Service
Apple's previous policy for iPhone 4 and 4S warranty repairs had frequently involved issuing customers new handsets but swapping their existing back plates onto the new hardware, with the replacement handsets carrying warranties lasting 90 days or until the expiration of the original one-year warranties from the customers' initial purchases.
The policy had received criticism from those arguing that the replacement devices essentially amount to brand-new hardware and should carry longer warranty coverage. Under Apple's revised policies announced today, the company has heeded those complaints and when it swaps out customers' devices for replacement ones, they will be entirely new devices and carry fresh one-year warranties.
Apple has also made it more clear to customers what its standard repair policies are in China, with main parts such as motherboards receiving two-year coverage while other components receive one-year coverage. In addition, Apple has increased training for authorized service providers in China in order to ensure that they are fully aware of Apple's new and continuing warranty policies. Finally, Apple has also rolled out a new feedback form to provide a simpler mechanism for Chinese customers to contact Apple about service concerns.