Apparent Next-Generation iPhone Gets a Thorough Hands-On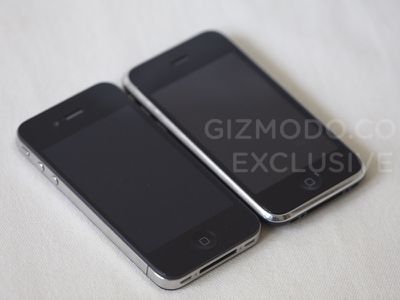 Over the weekend, the Apple web was abuzz after
Engadget
offered
images
of what appeared to be a possible next-generation iPhone that had reportedly been lost in a bar in the general vicinity of Apple's headquarters.
Further evidence
of their authenticity then surfaced when it was noticed that a similar device appeared in a legitimate leaked iPad photo just before its January introduction.
And today, Gizmodo drops the biggest bombshell: They got their hands on the device and have examined it and torn it apart for all to see.
What's new
- Front-facing video chat camera
- Improved regular back-camera (the lens is quite noticeably larger than the iPhone 3GS)
- Camera flash
- Micro-SIM instead of standard SIM (like the iPad)
- Improved display. It's unclear if it's the 960x460 display thrown around before -- it certainly looks like it, with the "Connect to iTunes" screen displaying much higher resolution than on a 3GS.
- What looks to be a secondary mic for noise cancellation, at the top, next to the headphone jack
- Split buttons for volume
- Power, mute, and volume buttons are all metallic
Other changes observed in the device compared to the current iPhone include a glass or shiny plastic back, 16% larger battery, and a slightly smaller but apparently higher resolution screen.
Unfortunately,
Gizmodo
was not able to see the phone in action, as it appears to have been remotely disabled by Apple. The report does, however, lay out a through description of the device and a number of arguments as to why this almost certainly is a legitimate next-generation iPhone. While certain aspects may be tweaked prior to launch, the overall feature set of the next-generation iPhone certainly appears to be included in this device.