President Obama Mentions Apple Building Macs in America During State of the Union Address
President Barack Obama tonight mentioned Apple during his State of the Union speech to Congress, mentioning the fact that Apple will again be building Macs in the United States in 2013. CEO Tim Cook disclosed that plan back in December.
Though he didn't mention which line of computers would be made in the U.S., rumors said Apple would begin manufacturing of the Mac mini there, bringing some 200 jobs to the country.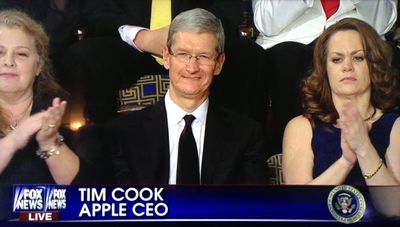 From President Obama's yearly State of the Union speech:

Our first priority is making America a magnet for new jobs and manufacturing.

After shedding jobs for more than 10 years, our manufacturers have added about 500,000 jobs over the past three. Caterpillar is bringing jobs back from Japan. Ford is bringing jobs back from Mexico. After locating plants in other countries like China, Intel is opening its most advanced plant right here at home. And this year, Apple will start making Macs in America again.
Tim Cook attended the State of the Union, sitting in the First Lady's box -- a frequent location for guests who are mentioned in the President's speech. He sat behind and to the side of the First Lady, just behind the Second Lady, Dr. Jill Biden.
Note: Due to the off-topic comments, the discussion thread has been closed.