iPhone 6 Specs Seen by Analyst as 'Locked In' with 4.8-Inch Display and 802.11ac Wi-Fi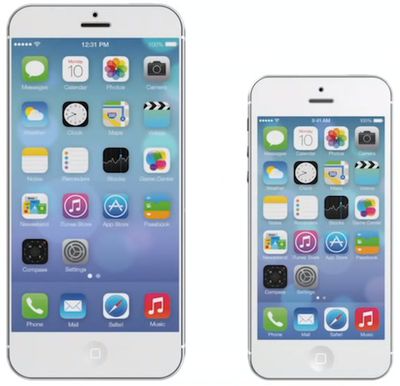 Adding to a litany of analyst predictions pointing to a larger iPhone, Timothy Arcuri of Cowen and Company (via AppleInsider) today claimed that the iPhone 6 will ship with a 4.8-inch display, a significant increase over the 4-inch display of the iPhone 5c and iPhone 5s.
Citing sources within Apple's supply chain, Arcuri also indicated that the next-generation iPhone will come with the 802.11ac Wi-Fi standard that first began appearing in Apple products in 2013. 802.11ac, or "Gigabit" Wi-Fi offers speeds up to three times as fast as existing 802.11n wireless networks, reaching speeds over 1 Gigabit per second.
Because 802.11ac was included in Apple's updated Mac line throughout 2013, many expected the iPhone 5s and the iPhone 5c to ship with the standard. While the chips were presumably not quite ready at the time, 802.11ac support in the Galaxy S4 and the HTC One suggests that the technology is now ready for mobile devices.
Echoing several other predictions about Apple's future in mobile payments, Arcuri went on to suggest that Apple will offer "key software innovations" in 2014 with iBeacon, Touch ID, and Passbook used as a mobile payment solution.
Aside from hardware tweaks and design changes, Arcuri also said that Apple is planning "key software innovations" with the next major release of its iOS platform. He expects the company will leverage iBeacon, Touch ID and Passbook as part of a push into new services with mobile payments.
According to the analyst, Apple will launch its updated iPhone in September, which is in line with previous Apple iPhone releases. Although Arcuri does not mention dual iPhone sizes, some iPhone 6 rumors have indicated Apple could release the phone in multiple sizes ranging from 4.7 to 5.7 inches.