Apple Maps App with Interactive Data Layers Detailed in New Patent
Apple has filed for a United States patent (via AppleInsider) detailing an interactive mapping program that allows users to view different layers of information based on factors such as location, points of interest, and the context of a current situation. While the concept of various layers of information for digital maps is not new, Apple seeks to enhance layering by drawing upon several types of information based on the user's needs through various "modes".
The patent introduces itself by describing the problem with existing maps applications and the need for a user to rely on multiple ones in order to gain a complete set of information relevant to a current situation. For instance, the patent gives an example of a user who views a weather map and sees that a storm is coming, and then has to switch to another app to locate a shopping mall or nearby building to take refuge while the storm passes.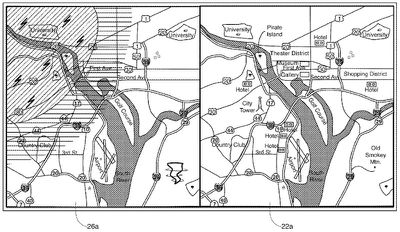 The application described in the patent however, would essentially contain all of the various types of information for quick and unified access. With the application in patent, the user in the first example would be able to reveal the weather layer to note that a storm was coming, and then hide that layer and reveal another one giving the locations of nearby buildings to reach safety.
In another aspect, user input can be directed at specific features displayed on the map, such as clicking a mouse button while a cursor is positioned over a dot representing a city, or touching a highway indicator on a map displayed on a touch screen device. In response to such input, the map displays information that pertains to the feature of interest. For instance, clicking on a city dot might result in the display of information pertaining to the city, such as demographics, hotels, flight schedules, etc. Touching a highway indicator, such as a route number shield, may cause the map to display the locations of fueling stations, hotels and restaurants along the route.
Users would also be able to select different modes in order to emphasize map layers that could be useful to a particular interest, such as a commuting mode that would reveal the locations of nearby trains or bus stops and their specific transit times. Other modes could include a shopping mode that would reveal information while in a mall about special deals and sales, similar in nature to how shopping app Shopkick and Macy's teamed up for the first retail-based iBeacons last month that allowed customers to find location-specific deals, discounts and recommendations while looking at items in the store.
This would also be relevant to search results, as searching the word "food" in tourist mode would give results for locations such as restaurants and cafes, while searching the same term in the outdoor recreation mode would give the locations of camping supply stores.


Another application would be the ability to create routes by touching two points on a map with distance calculations, which would also give the best possible route to select based on context. For instance, if a person is deciding what route to take across a certain area, the mapping application would show the best possible route in terms of traffic density, possible restaurants, weather, and so forth.
Finally, the application would also include geospatial capabilities that can be integrated to provide information based on a specific location. For instance, if a user had a tourism mode toggled and walked through a location of historical significance, then information about facts related to the area could pop up to compliment an experience.
While it is unknown as to whether Apple will actually integrate the technology detailed in the patent into its existing Maps application, the company clearly continues to look to improve its mapping services, as evidenced by a number of recent acquisitions.
For instance, Apple's purchases of companies such as Embark, HopStop, and Locationary would allow it to pursue some of the mapping capabilities discussed in the patent, and could also be bolstered by the technology provided by PrimeSense, another recent acquisition. With Apple Maps now the clear-cut favorite among iOS users, it would only make sense that Apple look to improve the app beyond any other effort from its competitors.