Apple Maps Significantly More Popular Than All Other iOS Mapping Apps, Including Google
After a rough launch last year, Apple Maps appears to be doing very well for itself, with 35 million U.S. iPhone owners using the app in September 2013, versus 6 million iOS users of the downloadable Google Maps according to data from comScore and The Guardian.
The data remains a little fuzzy as neither Google nor Apple publicly release their usage figures, but if they are even close to correct, Apple has largely succeeded with its Maps rollout and Google has lost a tremendous number of Maps users in just a year.
It's likely that Apple's success is largely due to the incredible advantage default apps hold on mobile platforms, with the majority of users finding Apple Maps to be "good enough" and not looking for an alternative.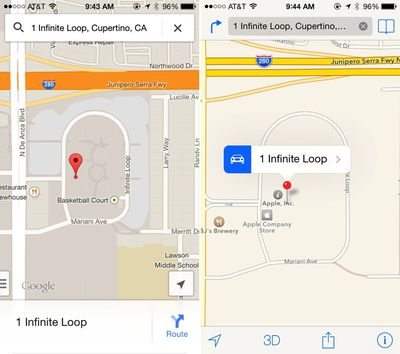 According to comScore, Google Maps has gone from 81.1 million mobile U.S. users last year to just 58.7 million this year, a drop of more than 20 million. At the same time, the total number of iPhone and Android phone users in the U.S. increased from 103.6 million to 136.7 million. comScore attributes this significant drop largely to the introduction of Apple Maps as the default app on iPhones, as well as an increasing share of younger users that don't use any mapping application.
ComScore's data shows that in September 2013, 35m used Apple's maps at least once during the month, out of a total iPhone population of 60.1m. The 58% usage on the iPhone is reckoned to reflect the growing number of younger users who do not use mapping services; the proportion of iPhone users who use any mapping service, including Google's, has been dropping since April 2012, according to ComScore's data.

Wood said: "The thing is, on an iPhone all roads lead to Apple's maps. They're putting this front and centre for users, and getting more confident." For Google, he said, "They're very fortunate that Android is a big source of data - they will be very relieved at that." He cautioned that US iPhone users might be more eager to use Apple's maps because there seem to be fewer errors there compared to other regions, including Europe.
35 million iPhone owners used Apple Maps in September, out of 60.1 million total iPhone owners in the United States, some 58 percent. Based on The Guardian's modeling, this means roughly 8.3 million iPhone users are using an alternative mapping application like Google Maps, with approximately two million of those using the pre-iOS 6 default Google Maps application because they have not upgraded to a newer version of the iOS.