Samsung Sells Just 50,000 Galaxy Gear Smart Watches, Exec Says Product is Unripe [Updated]
Samsung's Galaxy Gear has not been selling well, according to a new report from BusinessKorea. First launched in September, the $299 smart watch has been purchased less than 50,000 times and has received largely negative reviews.
With daily sales reaching just 800 to 900 units, Galaxy Gear sales are falling below initial industry expectation, despite an aggressive marketing campaign from Samsung.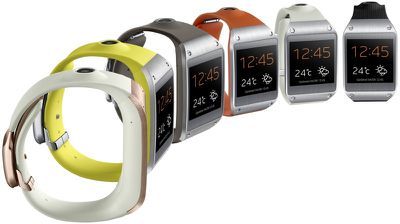 During Business Insider's Ignition conference in NYC, Samsung EVP David Eun spoke about the Galaxy Gear smart watch, lauding the company for being first to market and promising great things in the future. He compared the Galaxy Gear to a green tomato that would ripen over time.
When you're dealing with innovation and when you're dealing with startups, I always make the analogy to small green tomatoes. What we're dealing with is small green tomatoes and what we want to do is take care of them and work with them so they can become big red ripe tomatoes.

And what you want to be sure is that you don't pluck the green tomato too early and you want to make sure you don't criticize a small green tomato for not being a big red ripe tomato.

It's a 1.0 device. I like it a ton. It's 1.0. Personally, I don't think enough people gave us the credit for innovating and getting it out there. Not easily done to integrate all this functionality into one thing. But I would also say over time this thing is going to get big and red.
While Samsung is the first major electronics company to come out with a smart watch aside from Sony, other tech companies, like Apple and Google, are also working on developing their own smart watch products which could compete with future offerings from Samsung.
Apple's iWatch is said to incorporate several health-monitoring functionalities, along with a full version of iOS. Recent rumors have indicated that it could come in multiple sizes, combating the bulkiness issue that plagued the Galaxy Gear.
Though Samsung's Galaxy Gear product is already on the market, Apple has reportedly opted to hold off on releasing its iWatch as the company works to solve battery life issues. The Galaxy Gear launched with a single day battery life, but Apple is aiming for a battery life of at least four to five days.
Apple is supposedly preparing to launch its iWatch in late 2014, and began filing trademarks for the product earlier this year. The company is also said to be focusing most of its resources on wearables, delaying its ongoing television plans.
Update: According to a report from Reuters, Samsung announced on Tuesday that it had sold 800,000 Galaxy Gear watches since the device's debut two months ago. Yonhap reports [Google Translate] that the 50,000 number referred to South Korea alone.