Unibox, a Messages-style email client that entered public beta back in September, is now available for download from the Mac App Store.
Aiming to revolutionize the email experience, Unibox is designed to make email more personal through an organizational system that groups emails by contacts. The app's interface is divided into two panes, with the left side displaying contacts and the right side displaying all messages that have been exchanged with a particular person or website.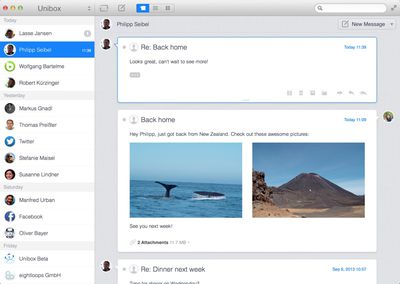 Unibox is a people centric email client that organizes your messages by person. In contrast to the tedious to-do list that email is today, Unibox allows you to concentrate on actual communication and makes email fun again. Once you got used to it you'll never want to go back.
Emails are composed within a single window, eliminating the concept of separate compose windows utilized by existing apps like Mail. Received attachments are readily available, displayed in a grid view, and the app also supports additional features like simple account switching and multiple aliases.
Unibox supports all IMAP accounts and works with both Mountain Lion and Mavericks. It can be downloaded from the Mac App Store for $9.99. [Direct Link]