WSJ: Thinner iPad and Retina iPad Mini Expected on Tuesday
Apple will introduce a high resolution Retina iPad mini and a thinner, lighter version of the standard 9.7-inch iPad during its Tuesday event, reports The Wall Street Journal, confirming months of product leaks and rumors.
Apple is now readying a revamped iPad Mini with a high-resolution "retina" display. It's also working on a thinner, lighter version of its standard 9.7-inch iPad, using a thin film instead of the glass found in existing models, based on information from the company's parts suppliers.
While a fifth-generation iPad with thinner side bezels and an overall smaller size has been widely expected, the release of the Retina iPad mini has been less certain, given multiple reports in the last few weeks suggesting serious supply chain issues.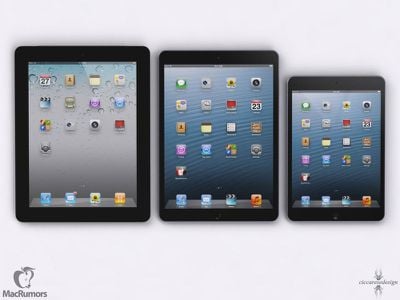 Rendering

of the fifth-generation iPad between iPad mini and fourth-generation iPad


It was unclear whether the Retina iPad mini would be ready for Tuesday's announcements, but in addition to The Wall Street Journal, two reliable sources, KGI Securities analyst Ming-Chi Kuo and AllThingsD, have also indicated that the Retina iPad mini will make its debut on October 22.
Alongside a Retina screen, the iPad mini is expected to include an A7 processor, while the full-sized iPad will offer an A7X processor. Both iPads will include upgraded cameras, and could also offer Apple's new M7 motion tracking chip. AllThingsD has also indicated that Haswell MacBook Pros will be unveiled during the event.
Finally, I'm told we're likely to see a slate of new MacBook Pros upgraded with Intel's latest Haswell processors. Apple brought Haswell to its MacBook Airs earlier this year, giving them a nice boost in battery life and graphics. It has been expected to do the same for its professional laptops ever since. Tuesday should see the announcement of that move.
Aside from the iPads and the Haswell MacBook Pros, Apple is expected to announce a number of other hardware and software products, including Mavericks, revamped versions of iLife and iWork for both Mac and iOS, the redesigned Mac Pro, and possibly a new display to go with it. A minor update to the Apple TV may also be included, and it's possible that the Mac mini could be updated as well.