Apple's Media Event Predicted to See Retina iPad Mini and Thinner iPad, but No Touch ID or Gold Option
High-profile KGI Securities analyst Ming-Chi Kuo has released a new research report outlining some of his expectations for Apple October 22 media event, focusing on the company's iPad and Retina MacBook Pro lineups.
In line with our previously summarized expectations, Kuo believes that Apple will be introducing a thinner and lighter fifth-generation iPad, as well as a new iPad mini with Retina display. The latter has been the subject of considerable debate, with some sources believing that Apple is not yet ready to bring Retina displays to the iPad mini, but while Kuo believes that Apple will indeed be able to introduce a Retina iPad mini, supplies will be highly constrained at first.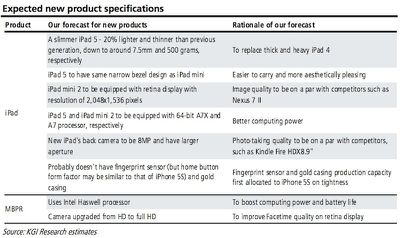 Kuo also weighs in on several other rumored additions for the iPad and iPad mini, claiming that "probably" neither a Touch ID fingerprint sensor nor a gold color option will be available in either line. He believes that production of components related to those features are still being prioritized for the iPhone 5s, which remains in very tight supply, and thus will not yet be able to make their way into the iPad lineup.
As for other upgrades, Kuo believes that the fifth-generation iPad will adopt a new A7X chip while the new iPad mini will be equipped with a slightly less powerful A7 chip like the one found in the iPhone 5s. Kuo also reiterates his earlier claim that the rear camera on Apple's new iPads will be upgraded to 8 megapixels. Finally, Kuo believes that both the fifth-generation iPad and the second-generation iPad mini will include Apple's new "M7" chip that debuted in the iPhone 5s, offering significant improvements for motion tracking.
Alongside the iPad updates, Kuo also believes that Apple will be introducing its Retina MacBook Pro on Tuesday, moving to Intel's latest Haswell chips for improved performance and battery life while also upgrading the FaceTime camera to 1080p quality, a claim he has made in the past.


Overall, Kuo unsurprisingly believes that the new fifth-generation iPad will drive a significant increase in sales for Apple's full-size iPad, while the new iPad mini will result in a more modest bump due to the very tight initial supplies. He also predicts a very strong bump for the Retina MacBook Pro, as pent-up demand for new Haswell models should lead to strong sales heading into the holidays.
Unaddressed is Apple's Mac Pro, which is expected to be given its full introduction on Tuesday in advance of a launch before the end of the year, but Kuo has generally not covered Apple's Mac Pro line in his report.
Kuo has been fairly accurate with his claims over the past several years, earning him significant attention from the rumor community. He has, however, had some misses, as seen with his prediction that the Retina MacBook Pro would be updated at Apple's Worldwide Developers Conference back in June. That update had been widely expected, but did not come to pass and customers are still waiting for the new models to appear over four months later.