Analyst Believes iWatch Will Feature Home Automation, Be More Than an iPhone Companion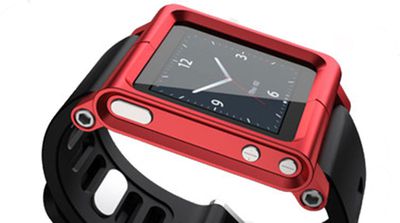 The much-rumored iWatch may be used as a home automation gateway, allowing users to control various functions within their houses, according to a new research note by Cantor Fitzgerald analyst Brian White.
As an Apple supplier, our contact offered insight into the "iWatch" and described this potential new device as much more than an extension of your iPhone but as a multi-purpose gateway in allowing consumers to control their home (i.e., heating/cooling, lights, audio, video, etc.).
This functionality would mirror the abilities of apps by Philips and Nest to power the Hue lightbulbs and Nest Thermostat, allowing users to control lighting and temperature from simple commands on their devices. However, as those services require additional accessories it would likely mean Apple would have to manufacture these accessories itself or create some kind of licensing program for third parties, like AirPlay.
It is not surprising to hear that the iWatch will be far more than an iPhone companion given repeated reports of the health-sensor technology rumored to be built into it, but the potential inclusion of home automation does come as a surprise.
In the past, White has provided somewhat questionable reports, claiming that an Apple television set with an "iRing" motion control remote would be coming this year and that the iPhone 5s would come in multiple sizes. Although he did also predict there would be multiple color choices for the next iPhone.
Two iWatch models, with 1.3- and 1.6-inch 320x320 AMOLED screens, are rumored to be arriving at some point next year.