Apple Acquires Video Discovery and Recommendation Startup Matcha.tv
Apple has purchased content discovery startup Matcha.tv for $1 to $1.5 million, reports VentureBeat. Matcha.tv is a company that formerly operated a website and mobile apps dedicated to providing recommendations for movies and TV shows based on user preference.
Before being quietly shutdown in May, the service aggregated content from popular streaming services like Netflix, iTunes, Hulu, and Amazon Prime to provide users with a list of TV shows and movies available across all of the sites. At the time the company's app went offline, Matcha.tv CEO Guy Piekarz told TechCrunch that the company was working on a "new direction" for the service.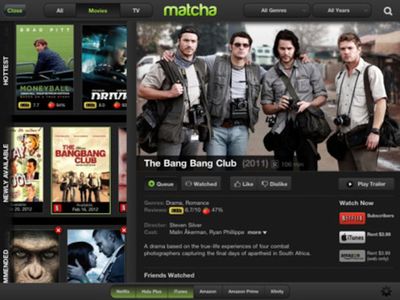 A screenshot from Matcha.tv's iPad app
Matcha.tv is basically an iOS app that provides a comprehensive overview of everything that's available for you to watch via cable TV providers (Comcast), streaming video services (Netflix, Hulu, Amazon Prime), and digital video stores (iTunes, Amazon). Additionally, you can manage what you watched from a universal queue, get video recommendations, and connect with social networks to see what your friends were watching/liking.
Matcha.tv's functionality seems like a solid fit for Apple, as the company offers a range of content from a variety of sources on its Apple TV. For example, customers can watch TV shows and movies via Netflix, iTunes, and Hulu using the device, and Apple has been working hard to extend its content offerings over the last several months.
The company added several new channels, including HBO GO and WatchESPN back in June and is said to have deals in the works for both a Time Warner Cable app and a VEVO app.
Apple confirmed the purchase of Matcha.tv to VentureBeat with a standard acquisition statement: "Apple buys smaller technology companies from time to time, and we generally do not discuss our purpose or plans." Under the terms of the acquisition, Matcha.tv's founders will continue to work at Apple for at least two years.