Apple Has Raised $65 Million for (Product) RED Fight Against AIDS
U2 singer Bono, who heads up the (Product) RED charity Apple has collaborated with since 2006, today announced (via TechCrunch) Apple has raised more than $65 million to fight AIDS in Africa.
Since it first debuted a special edition (Product) RED iPod nano in 2006, Apple has released a number of (RED) devices, including several iPod nanos and shuffles. The company has also produced a (RED) iPad Smart Cover, iPad mini Smart Cover, and an iPhone Bumper, along with a new (RED) iPhone 5s case. For every (RED) product bought, Apple donates a portion of the purchase price to the charity.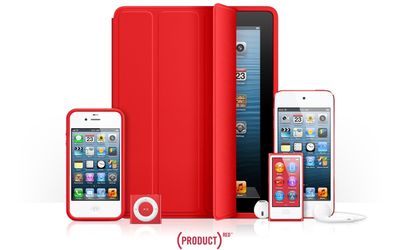 (RED) works with companies like Apple to fight for an AIDS-free generation by 2015 by creating (PRODUCT) RED merchandise. A percentage of gross profits from the sale of those products goes to the Global Fund to help fund AIDS programs in Africa.
(Product) RED is affiliated with several other companies in addition to Apple, including Starbucks, Nike, and American Express, raising more than $200 million to date.