Apple Hiring Genre Experts to Program iTunes Match Stations
Apple is hiring a number of musical experts to program its iTunes Match stations, according to a report from CNET. The human touch on the music stations stands in stark contrast to the algorithm-driven methodology that is used by Pandora, the current leader in streaming music.
Pandora uses algorithms and user feedback to determine what songs should be played, whereas Apple will have humans programming its wide variety of stations.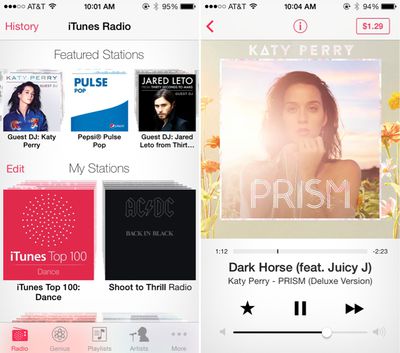 Apple has been staffing up and is looking to hire a range radio music programmers. These are people with deep knowledge in genres such Latin, metal and alternative music who will be responsible for selecting and promoting songs out of the thousands of new releases each month. Apple has also been trying to poach people from the labels themselves.
CNET also says Apple has been working with major music labels to promote "heat seekers", acts that labels believe are on the verge of breaking out, but haven't quite made it to that point.
Apple has always had a human touch on the iTunes Store, with editors reportedly choosing what albums and tracks to feature based on sales and personal preference, rather than a 'pay-to-play' system. The company uses a similar methodology on the App Store with its Staff Favorites and Editor's Choice sections. iTunes Radio also features celebrity Guest DJs, including Katy Perry and Jared Leto at launch, as well as exclusive content -- the Katy Perry station, for example, includes an unreleased track from her new album.
The ad-supported iTunes Radio is included free with iOS 7, launching tomorrow. Subscribers to Apple's $25/year iTunes Match service, however, will hear no ads and will be able to skip an unlimited number of songs.