Photos of Claimed New 15-Inch MacBook Pro Logic Board Show NVIDIA GT 650M, Retained Layout
M.I.C. gadget points to a pair of posts from Chinese forum WeiPhone.com showing portions of what is claimed to be the logic board and graphic hardware from the next-generation 15-inch MacBook Pro set to be introduced tomorrow.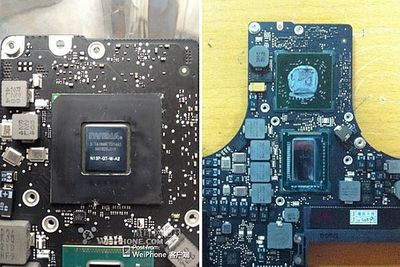 New MacBook Pro logic board with NVIDIA GeForce GT 650M (left) and current MacBook Pro logic board (right)
The images show an NVIDIA GeForce GT 650M graphics chip and 1 GB of GDDR5 graphics memory, which many have expected would make an appearance in the new MacBook Pro. Interestingly, the posters have also compared the leaked photos with the logic board of the current MacBook Pro, finding the layouts to be nearly identical all the way down to the screw holes on the board.

New MacBook Pro logic board with 1 GB GDDR5 graphic memory (left) and current MacBook Pro logic board (right)
One of the reports also claims that the new 15-inch MacBook Pro will arrive with 2.3 GHz and 2.5 GHz chip options on stock models, with a 2.7 GHz chip available as a high-end custom configuration. The exact chips to be offered are not detailed by the poster, but some attempts at matching up to Intel's Ivy Bridge offerings can be made.
At the 2.3 GHz level, Apple would have its choice of the Core i7-3610QM or Core i7-3615QM. For a 2.5 GHz chip, the only appropriate Ivy Bridge processor currently available is a dual-core Core i5-3210M, which would actually be the low-end chip. And at the high end, Apple would apparently be offering the Core i7-3820QM as had been seen in benchmarks that appeared last month.
Apple has been widely rumored to be introducing a redesign MacBook Pro with a Retina display and a thinner profile. But if the leaked photos are genuine they may indicate that no redesign of the body is forthcoming, as Apple would be expected to make significant changes to the logic board to accommodate rearranged internals in a thinner enclosure.
An alternative explanation relates to claims put forth late last week by KGI Securities analyst Ming-Chi Kuo, who indicated that a thinner, Retina-capable Mac notebook would appear as a third member of the MacBook family with Apple continuing to offer the existing MacBook Pro alongside the new model for the time being. In that case, these leaked photos could represent the updated version of the current MacBook Pro with the new notebook still remaining under wraps.