Apple to Introduce Third MacBook Line with Retina Display at WWDC?
KGI Securities analyst Ming-Chi Kuo today issued a new report outlining his belief that Apple's thinner, Retina-equipped Mac notebook will arrive next week as a new model, referring to the machine simply as a "MacBook". Kuo believes that this MacBook will be offered alongside upgraded versions of the existing 13-inch and 15-inch MacBook Pro models, with Apple being reluctant to do away with the current 13-inch design in particular due to its massive popularity.
We expect Apple (US) to unveil a new MacBook series independent from the MacBook Air and MacBook Pro lines at Worldwide Developers Conference (WWDC) in June. We expect the new MacBook to have the following features:

(1) Basic 13" model to be priced at US$1,199
(2) No disc drive
(3) To come in both SSD and HDD
(4) Lighter and slimmer than MacBook Pro, with equal computing power
(5) Retinal display with tapered edge, larger battery capacity
Kuo also reiterates his earlier claims that Apple will discontinue the 17-inch MacBook Pro this year, citing estimates that the model makes up only 1% of Apple's notebook sales.
The introduction of this new "MacBook" model would leave Apple with a lineup of six notebooks, although Kuo predicts that issues with display yield and heat dissipation will push the release of the 13-inch MacBook back until August, leaving only the 15-inch model to make its debut next week.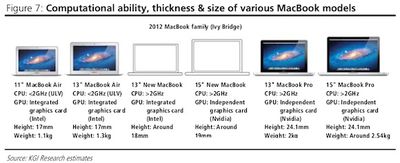 Mention of an independent graphics chip on 13" MacBook Pro is an error - should be integrated graphics
We should note that this configuration of models is not accounted for in our speculation on
part numbers
that leaked earlier this week, but we did receive an unconfirmed tip of a different configuration that would match up with Kuo's claims fairly closely. In that scenario, new iMacs are not accounted for in the list and the J30/J31 model numbers represent updated 13-inch and 15-inch MacBook Pro models while the D2 model represents this new Retina-equipped 15-inch MacBook.
Kuo believes that Apple will wait until next year to re-simplify its notebook lines with Intel's Haswell platform, at which point the company will merge the MacBook Pro and this new MacBook model, leaving a set of four models: 11-inch and 13-inch MacBook Airs and 13-inch and 15-inch MacBooks.
We do find Kuo's claims to be somewhat difficult to believe, as we fail to see how this new "MacBook" model is substantially different in performance from the MacBook Pro and thus do not see why users would be interested in a non-Retina MacBook Pro given the existence of this new MacBook line. Given the scenario outlined by Kuo, the only "advantage" of the thicker MacBook Pro would be an included optical drive, but users are finding such a feature to be increasingly unnecessary and easily replaceable by digital downloads such as through the Mac App Store, direct file transfers, and cloud-based storage, with an external optical drive available to be connected only on the rare occasions when necessary.
Still, Kuo has offered accurate information on Apple's notebook plans in the past, being the first to outlined the MacBook Air redesign that included the new 11-inch model, and thus we feel that his claims are worth some consideration and discussion.