Apple Announces Lighter, Thinner iMac Models with Fusion Drive
Apple today updated its iMac lineup, dramatically reducing the thickness of the desktop machines and adding a brand new Fusion Drive that combines flash storage and a traditional disk-based hard drive to maximize both speed and capacity.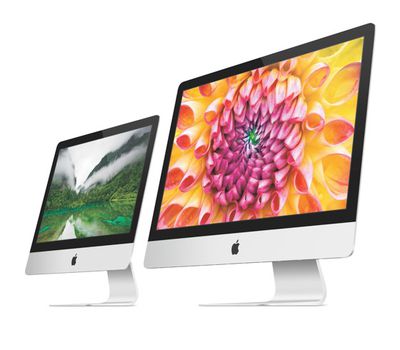 The iMac will come with both 21.5-inch and 27-inch displays, and includes a new fully laminated design to improve optical quality and a new anti-reflective coating.
Redesigned from the inside out, the new iMac packs high-performance technology into an aluminum and glass enclosure with up to 40 percent less volume than its predecessor and an edge that measures just 5 mm thin. Built with an unprecedented level of fit and finish, the new iMac delivers an amazing desktop experience in a gorgeous design. The new iMac also features a completely reengineered display that reduces reflection by 75 percent while maintaining brilliant color and contrast. In the new design, the cover glass is fully laminated to the LCD and an anti-reflective coating is applied using a high-precision plasma deposition process. Every iMac display is individually color calibrated using an advanced spectroradiometer.
The 21.5-inch iMac starts at $1,299 in the US, and includes a with a 2.7 GHz quad-core Intel Core i5 processor, 8 GB of RAM, and a 1 TB hard drive. The 21.5" model should begin shipping in November.
The 27-inch iMac starts with a 2.9 GHz quad-core Intel Core i5, 8 GB of RAM, and a 1 TB hard drive starting at $1,799 and shipping in December.