13-Inch Retina MacBook Pro and Updated iMacs Reportedly Due in September-October
KGI Securities analyst Ming-Chi Kuo today released a significant new report outlining his estimates of Apple's product launch schedule for the second half of this year, pointing to all-new iPod touch and iPod nano models as well as new iPhone and iPad mini models and tweaked internals for the full-size iPad.
Kuo's report also touches on the Mac side, reiterating his earlier claims that Apple will be launching its 13-inch Retina MacBook Pro in that timeframe. He believes, however, that impact from the launch will initially be muted amid tight supplies and consumer budgets that will likely prioritize purchases of new iPhone and iPad mini models.
We think consumers who initially planned to purchase the 13" MacBook Pro and Air will turn to the 13" Retina MacBook Pro instead because it has an attractive panel, its price is similar to MacBook Pro and it has a better balance between power consumption and form factor. However, as supply is limited due to panel and assembly yield rate issues, shipment of the 13" Retina MacBook Pro won't be able to satisfy demand. And we think consumers' budgets will transfer to new iOS products after Apple launches them, which suggests that overall MacBook shipments will not grow meaningfully on the 13" Retina MacBook Pro.
While early 13-inch Retina MacBook Pro sales may be modest, Kuo does believes that with Retina displays clearly being the future of Mac notebooks the stage will be set for explosive growth heading into 2013.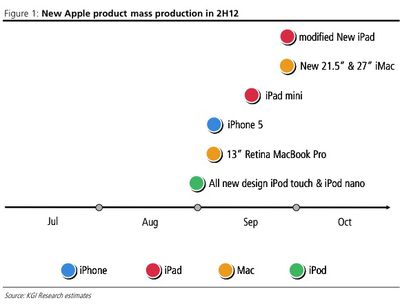 As for the iMac, Kuo believes that new Ivy Bridge-based iMacs have been delayed by screen lamination issues, with Apple's supply chain status suggesting it will be a tight schedule to meet an end of September launch for the updated models.
The chances of the new iMac debuting in September are slim. But, judging by the current supply chain situation, it could be rolled out by end-September. [...]

[Supply chain] shipments for Mac desktop models will be low due to inventory adjustment in July, and will see the most dramatic MoM rise in August as shipments for the new iMac begin.
Several other sources have claimed that Apple will be targeting an October launch for updated iMacs, although there has been disagreement over whether the new models will include Retina displays, which are almost certainly the most highly-anticipated feature in the product's future. Kuo's report does not address whether or not he believes the feature will be included in the next revision or held for a later update.