Apple Loses 'iPhone' Name Rights in Mexico over Phonetic Similarity [Updated]
Electronista reports that Apple has lost a court case in Mexico over the rights to the "iPhone" name in that country, with the court ruling that the name is too phonetically similar to that of telecommunications company iFone, which registered its trade name in 2003.
The decision stems from a legal action that Apple initially filed in 2009 requesting that the company cease using the iFone brand in order to head off the possibility of consumer confusion.

El Universal reports that the iFone trade name was registered in Mexico in 2003, some four years before Apple did so. Nonetheless, Apple sought unsuccessfully to gain sole control over the brand in the year after the iPhone first launched in Mexico.
Spanish news agency Efe has a bit more on the situation, quoting a lawyer for iFone as saying that this is the third time Apple has lost in this case.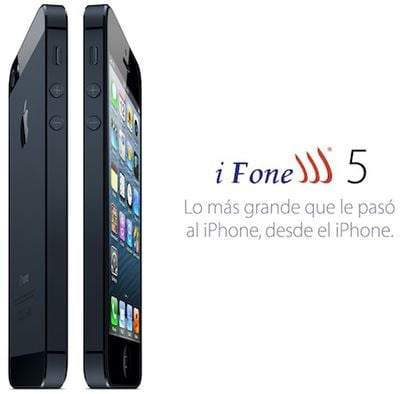 It is unclear exactly what the next steps are for Apple and iFone, including whether additional appeals are possible. Apple is not likely to simply abandon the iPhone name in Mexico, and would thus almost certainly attempt to reach a settlement with iFone that would enable it to continue using the iPhone trade name in the country.
Update 1:21 PM: The Verge clarifies some of the confusion about the situation, noting that the court ruling has no impact on Apple's ability to sell the iPhone in Mexico and relates strictly to one trademark class.
As you'd expect, companies like Apple file to protect ultra valuable trademarks like "iPhone" in every class they can come up with an argument for, since it protects against infringement and brand dilution. That's where iFone comes in — it has a single Mexican trademark on the word "iFone" in Class 38, which covers telecommunication services. Apple runs a few of those, like iMessage and FaceTime, and indeed, it has a Class 38 US trademark on "iPhone."

Apple already owns two iPhone trademarks in Mexico in Class 9 and Class 28, which covers electronic game devices. But in 2009, Apple's lawyers decided iFone's Mexican Class 38 mark wasn't being actively used, and they filed a lawsuit to try and get it canceled so they could register their own pending Class 38 mark on "iPhone." iFone obviously disagreed and convinced the Mexican courts that they were still using the mark in commerce, which is where today's ruling comes from — Apple lost another round of appeals trying to cancel the iFone mark in Class 38.
The report goes on to note that reports of an injunction or fines against Apple are incorrect and are in fact related to what iFone is seeking in a countersuit, a suit that has yet to proceed to trial.