Riot Shuts Down Foxconn Plant, Impact on iPhone 5 Production Unclear
Reuters reports on a riot that broke out earlier today at Foxconn's facilities in Taiyuan, China, forcing the company to temporarily shutter the plant as it cleans up the damage and investigates the situation. The cause of the riot, which reportedly involved about 2,000 workers, remains unclear, with the company claiming that it began as a personal dispute between workers while other sources have indicated that it stemmed from security guards beating workers for unspecified reasons.
It was not clear how long the shutdown would last at the plant, which employs about 79,000 people in the northern Chinese city of Taiyuan, while police and company officials investigate the cause of the disturbance. [...]

"The plant is closed today for investigation," Foxconn spokesman Louis Woo told Reuters. An employee contacted by telephone said the closure could last two or three days.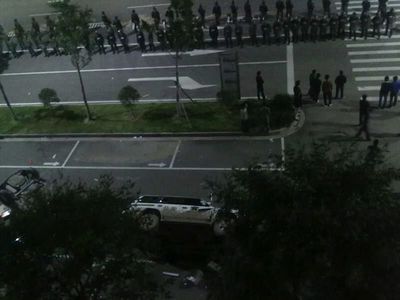 M.I.C. gadget shares a number of photos and videos from the scene, showing overturned vehicles, broken windows, and small fires.


The report also claims that an iPhone 5 production line was damaged in the riots, but that information does not appear to have been confirmed. As detailed in an undercover report from earlier this month, Foxconn's Taiyuan facility is involved in the production of the iPhone 5 black plate, and a multi-day shutdown at the plant could potentially have an impact on overall device production depending on existing supplies of the part in the assembly chain.
Update 11:12 AM: CNET reports that Foxconn has issued a statement saying that production at the closed facility will resume tomorrow and confirming that there were no deaths from the rioting. Reports have, however, indicated that at least 40 people were injured.