Displays for 13-Inch Retina MacBook Pro Now in Production
CNET reports that production has begun on 13.3-inch, 2560x1600 displays that will be incorporated into Apple's forthcoming smaller Retina MacBook Pro.
Production has begun of a 2,560-by-1,600 pixel density display that will land on a 13.3-inch MacBook Pro, NPD DisplaySearch analyst Richard Shim told CNET.

"The supply chain indications are that it's for a MacBook Pro 13.3 -- not a MacBook Air," said Shim.

Displays are being made by Samsung, LGD, and Sharp, he said.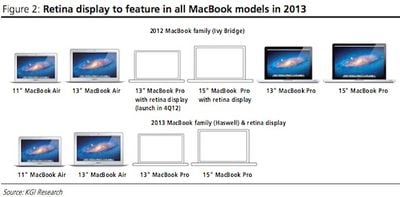 Apple's MacBook lineup plans for late 2012 and 2013 (Source: Ming-Chi Kuo/KGI Securities)
Shim indicates that launch supplies for the new 13-inch Retina displays will be higher than seen for the 15-inch displays incorporated into the first Retina MacBook Pro released back in June, reflecting the greater popularity of the 13-inch models compared to their larger siblings.
"With 15.4 it's production of a few hundred thousand units versus one to two million for the 13.3," he said. That 13.3-inch production began in the third quarter.
Apple has been rumored to be looking to launch the 13-inch Retina MacBook Pro in October, and with mass production of the displays for the forthcoming machines now underway, it seems that Apple may be on track to meet that timeframe.